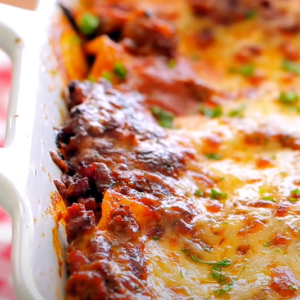 San Giorgio Lasagna
Hi guys! Today we're making my favorite San Giorgio lasagna. It's super easy & cheesy!
Ingredients  
Ingredients for Lasagna
1

lb

ground beef

1

medium

onion

2

cloves

garlic

1/4

cup

dry red wine

1

tbsp

olive oil

24

oz

Marinara Sauce

1/2

tsp

sea salt

1/4

tsp

ground black pepper

1/4

tsp

dried thyme

1/2

tsp

granulated sugar

2

tbsp

finely chopped parsley

9

pieces

San Giorgio Lasagna Noodles
Ingredients for Cheese Sauce
16

oz

cottage cheese

15

oz

ricotta cheese

1

large

egg

2

tbsp

finely chopped parsley

4

cups

shredded mozzarella cheese
Instructions 
Step 1

Place 9 San Giorgio lasagna noodles into a pot of salted water and cook until al dente according to the packaging instructions.

Don't overcook your noodles because they will still soften up a bit when you bake the lasagna.

Step 3

Add cold water to stop the cooking process and to keep the noodles from sticking together.

Step 4

In a deep pan over medium-high heat, add one tablespoon of olive oil, then one pound of ground beef and one small diced onion. Saute for 5 minutes, or until the meat is no longer pink.

Step 5

Add two large minced garlic cloves and cook another minute or until fragrant.

Step 6

Add 1/4 cup of good red wine and saute until mostly evaporated.

If you don't have red wine on hand, you can substitute with beef broth.

Step 7

Add 24 ounces or 3 cup of your favorite marinara sauce, either homemade or store-bought. Season with half a teaspoon of salt, 1/4 teaspoon of pepper, 1/4 teaspoon of dried thyme, half a teaspoon of sugar and two tablespoons of parsley.

Step 8

Bring that to a simmer, then cover and cook on low heat for 5 minutes while you make your cheese sauce.

Step 9

In a large mixing bowl combine 16 ounces of cottage cheese, 15 ounces of ricotta cheese, one cup of shredded mozzarella, 1 large egg and 2 tablespoons of finely chopped parsley. Mix until it's well blended.

Step 10

Everything's ready, and now we can assemble the lasagna.

In a deep 9 by 13 casserole dish, spread half a cup of the meat sauce evenly over the bottom.

Step 11

Cover that with 3 lasagna noodles.

Step 12

Add 1/3 of the remaining meat sauce and sprinkle the top with one cup of mozzarella cheese.

Step 13

Spoon on half of the cheese sauce and spread evenly.

Repeat the process until you have 3 layers of noodles.

Step 14

Top the last layer of noodles with the remaining meat sauce and cove it with one cup of shredded mozzarella cheese. Adding the cheese on top forms a crust that makes this lasagna supremely juicy.

Step 15

You'll need to cover and bake this casserole, so prepare a large sheet of foil.

To keep the cheese from sticking to the foil, poke 8-10 toothpicks evenly over the top of the lasagna, then loosely cover with the foil and seal the edges.

Step 16

Bake at 375 °F for 45 minutes, then remove the foil and set the oven to broil for 3-5 minutes, or until the cheese is golden brown.

Step 17

Now you want to let the lasagna cool for 30 minutes in the pan for it to set and become much easier to slice. Don't forget to remove the toothpicks.

Bon appetit!

After 30 minutes, you can enjoy the best lasagna you have ever tried!
Latest posts by Cindy Becker
(see all)