The outdoors has a unique charm – the open sky, the refreshing breeze, and the sense of tranquility. And I think each of you has experienced this feeling. But there is one essential component that can greatly enhance this outdoor experience. It is a propane fire pit table.
It is more than just a piece of outdoor furniture, it is central to creating that magical outdoor atmosphere. As for me, what I really enjoy about gas fire pit tables is the atmosphere they create. They turn your backyard into a welcoming space, perfect for entertaining friends and family or enjoying some time outdoors.
In my search for the best propane fire pit tables, I've come across many great models. They're not just about warmth, they're also about sparking conversation and creating memorable moments.
So whether you're looking for a chic centerpiece for your patio or a cozy heat source for those chilly evenings, I've got you covered.
Prefer videos to long articles? I've got you covered! Explore my YouTube channel for an exciting video showcasing the best propane fire pit tables for patios, backyards, decks, and pool areas. Get ready to be inspired! 🙌
Table of Contents
8 Things to Keep in Mind When Purchasing Gas Fire Pit Table
Before making this review of the best gas fire pit tables, I conducted a detailed study of various models. This involved understanding their complex inner workings and examining the diverse materials used in their construction.
There's a lot to contemplate when you're shopping for it. Here are eight key factors that I considered during my review, and that I recommend you keep in mind too:
1. Heat output
Gas fire tables ensure warmth as they are rated by heat output, measured in BTUs (British Thermal Units). The greater the BTU rating, the more heat the fire table will generate. Generally, gas fire tables have a BTU range of 30,000 to 60,000, but they can reach up to 100,000 BTUs. All good ones have a control knob or valve that allows you to adjust the flame height. By turning the knob clockwise, you can increase the flame size and heat output. Experiment with different settings to find the desired level of heat.
Understanding BTU is crucial for creating a comfortable outdoor heating experience. Considering that a 50,000 BTU fire pit is available at a price similar to a 40,000 BTU fire table, you might contemplate opting for the higher BTU capacity. However, this isn't always the optimal decision.
In compact spaces, a 50,000 BTU output could lead to excessive warmth, causing discomfort and difficulty in achieving the desired temperature balance. An outdoor area with limited shelter would be better suited for a 50,000 BTU fire table, while a 40,000 BTU version proves more sensible for smaller or well-sheltered environments.
Keep in mind that a 50,000 BTU fire table could result in higher operational costs compared to its 40,000 BTU counterpart. If utilized to heat an overly spacious area, a 40,000 BTU fire table might consume more fuel than a 50,000 BTU model. In such cases, continuously operating the table at its maximum setting to warm a larger space could lead to increased fuel consumption over time.
2. Shape matters
The shape of propane fire pit tables is important because it can affect the range of heat supply and how many people it can warm conveniently. Additionally, the shape of the fire pit table can blend nicely into your existing outdoor design.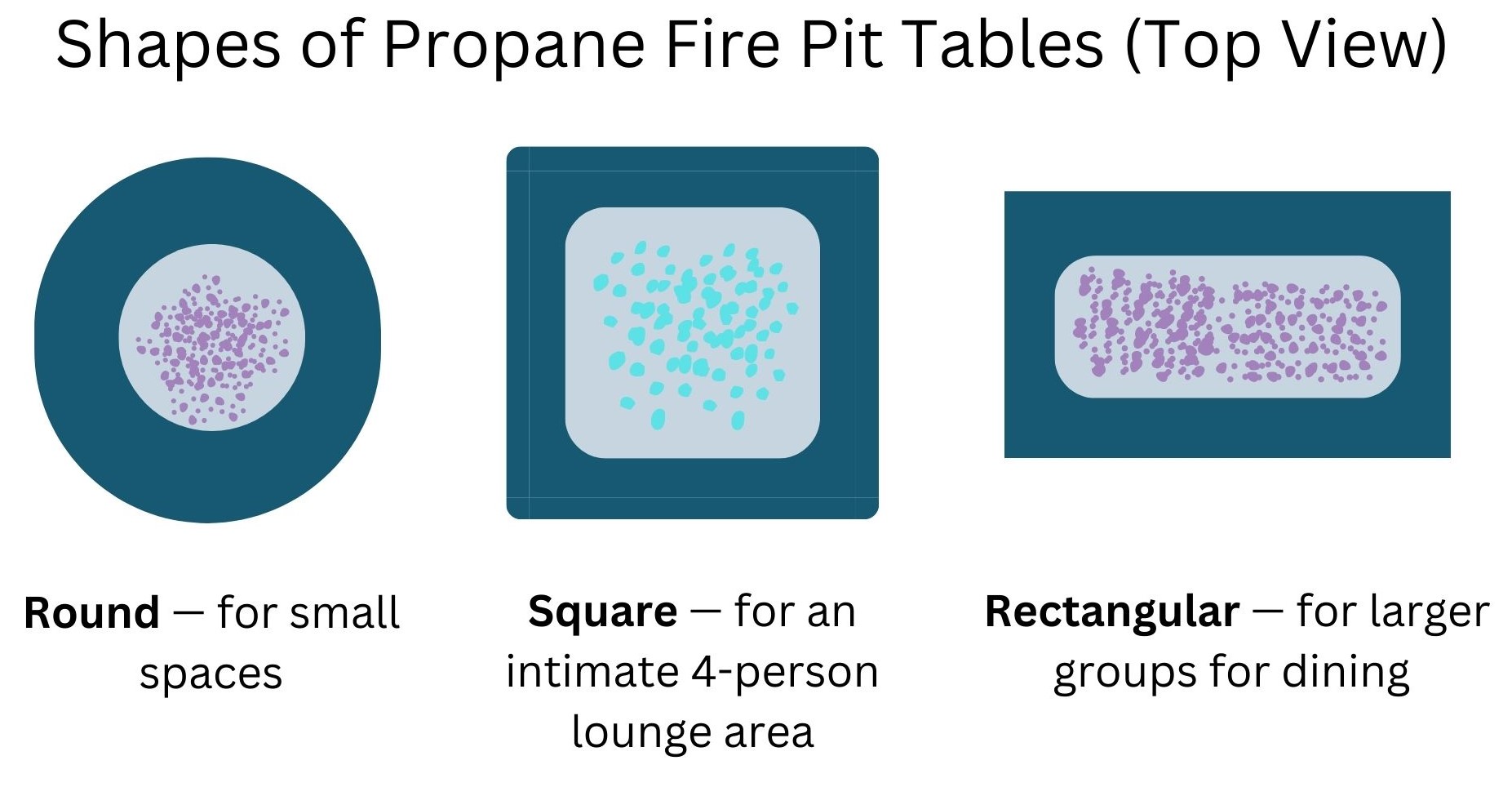 Different shapes of fire pit tables can also be suited to different styles of outdoor spaces. For example, standard outdoor fire tables are usually rectangular and bring a familiar and classic aesthetic that works best in rustic or traditionally styled spaces. Round propane fire pits are ideal for small spaces and allow for easy movements around the patio since no edges are involved. Square tables are perfect for an intimate 4-person lounge area with comfortable furniture, while rectangular ones are great for larger groups for dining or a good shape for a longer outdoor sofa. Ultimately, the shape of a gas-fire centerpiece should be chosen based on the dimensions and layout of the outdoor space where it will be used.
3. How you will use it
Reflect on how you plan to use your fire table. Will it serve as the centerpiece at large parties, a haven for solo relaxation, or both? There are four main purposes or scenarios where propane or gas fire pit tables can be extremely beneficial:
Setting the mood: It can set a warm and inviting tone for your outdoor space. With a variety of styles and materials available, you can find one that perfectly complements your outdoor decor.
Providing heat: When temperatures drop, it becomes a cozy center of warmth, making your backyard accessible and enjoyable even during the cooler months.
Host and socialize: Whether you're hosting a party or enjoying a quiet evening with family, it can serve as a convivial centerpiece. It's a great place for guests to gather, share stories, and create lasting memories.
Multi-purpose: When the flames are extinguished, many fire pit tables can be transformed into regular tables with the help of a cover.
For example, a rectangular fire pit table may be better suited for entertaining large groups, while a round one may be better for intimate gatherings.
4. Size it up
Make sure to check the dimensions. You don't want your fire pit to take over your outdoor space. It should blend in, not stick out. They come in a variety of shapes and sizes, ranging from 16 inches to 90 inches wide. You should also pay attention to the height of the table. Typically, there are two options:
High-top tables stand roughly 24 inches from the ground, offering a more traditional table height.
Low-profile tables are around 13 inches from the ground, offering a cozier, closer-to-the-ground seating experience.
5. Where the gas tank cylinder is located (internally or externally)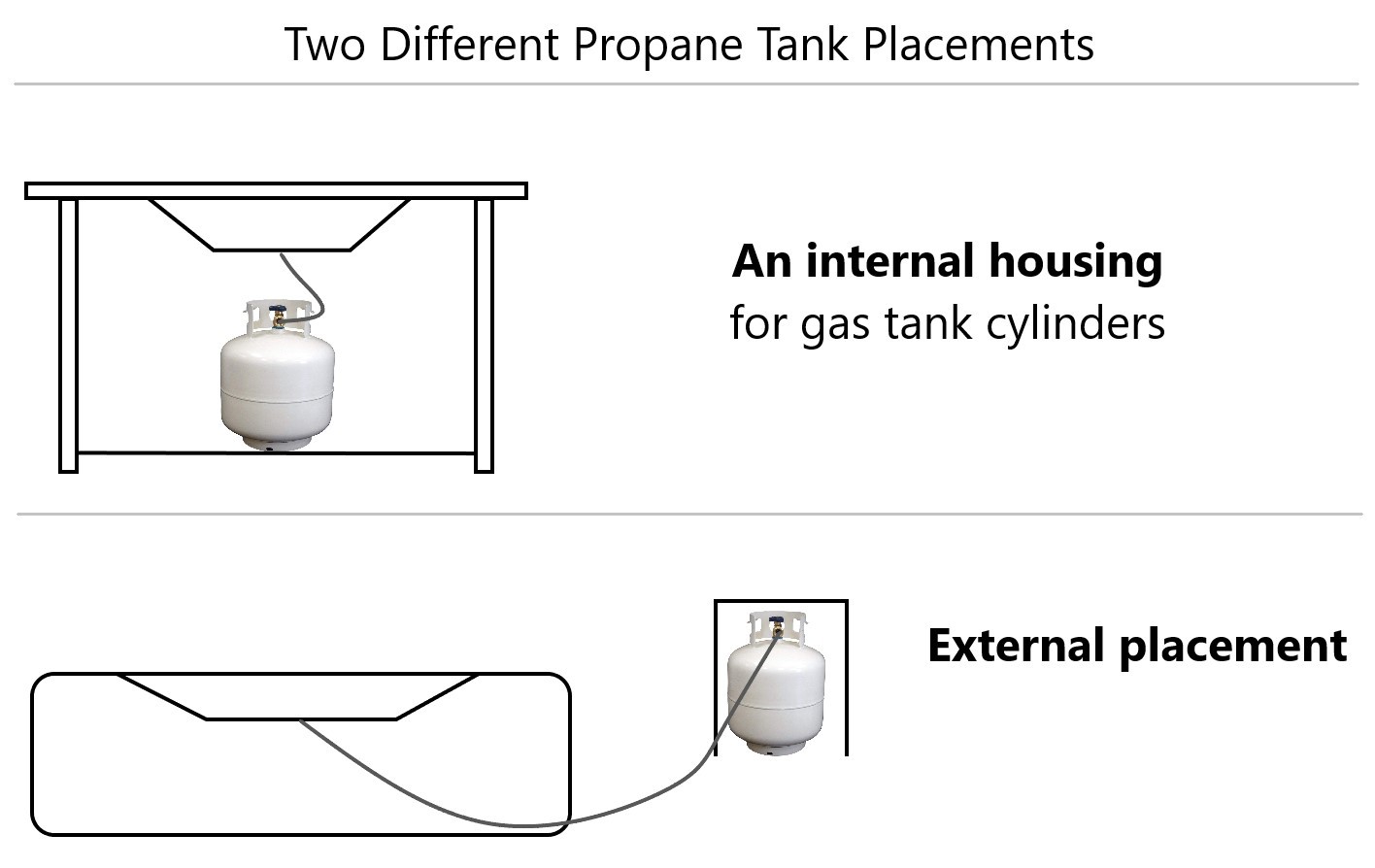 Do you want a table that hides the gas tank inside or one where the tank is visible? High-top tables typically accommodate the gas tank internally, keeping it out of sight. In contrast, low-profile tables generally do not have internal storage for the tank. Instead, these models often come with a separate tank cover that provides an inconspicuous placement for your gas tank.
6. Material options
Choosing the right material for your propane fire pit table can make a big difference in how it looks and how long it stays in great shape. There are a few common options to consider: steel, aluminum, rattan, concrete, and wicker.
7. Weight
If you plan to move It around often, you might want to choose a lighter model. The weight is generally influenced by the size and materials used in the table's construction. For instance, an aluminum table with dimensions of 32 x 52 x 25.6 inches may weigh around 50 pounds. Conversely, a concrete fire pit with the same dimensions could weigh two to three times more. Therefore, consider your mobility needs in conjunction with the material and size.
8. Price
They come in a wide range of prices, from modest options around $150 to luxurious models in excess of $1,000. The difference in price is largely dependent on the type of materials used, the quality of construction, and any additional accessories included. Higher-end models tend to offer greater durability, refined aesthetics, and exclusive features, and therefore command a higher price.
For example, the price of the Aegean 70″ Rectangle Propane Gas Fire Table is $2,086, while the Lanesboro Propane/Natural Gas Fire Table is $692.00.
With these points in mind, you're well-equipped to make a choice that fits your needs.
Top Picks
For those of you who prefer a quick read or are short on time, I've compiled a few brief recommendations for propane fire pit tables tailored to various needs.
The Best Choice Products Outdoor Propane Fire Pit Table – Best Wicker Propane Fire Pit Table for Those with Limited Outdoor Space.
The EAST OAK Propane Fire Pit Table – Best Rectangular Propane Fire Pit Table with Glass Top for Big Parties.
The COSIEST Round Propane Firepit Table – Best Small Firepit Table Set for Your Patio.
While searching for the perfect propane fire pit table, I realized that the abundance of options can make the decision-making process quite challenging. With that in mind, I embarked on a mission to simplify things for homeowners by researching approximately 35 different products. From this extensive list, I carefully selected 8 top-quality gas fire pit tables to feature in this article.
Now let's take a closer look at each model.
1. Best Cheap Propane Fire Pit Table — Ciays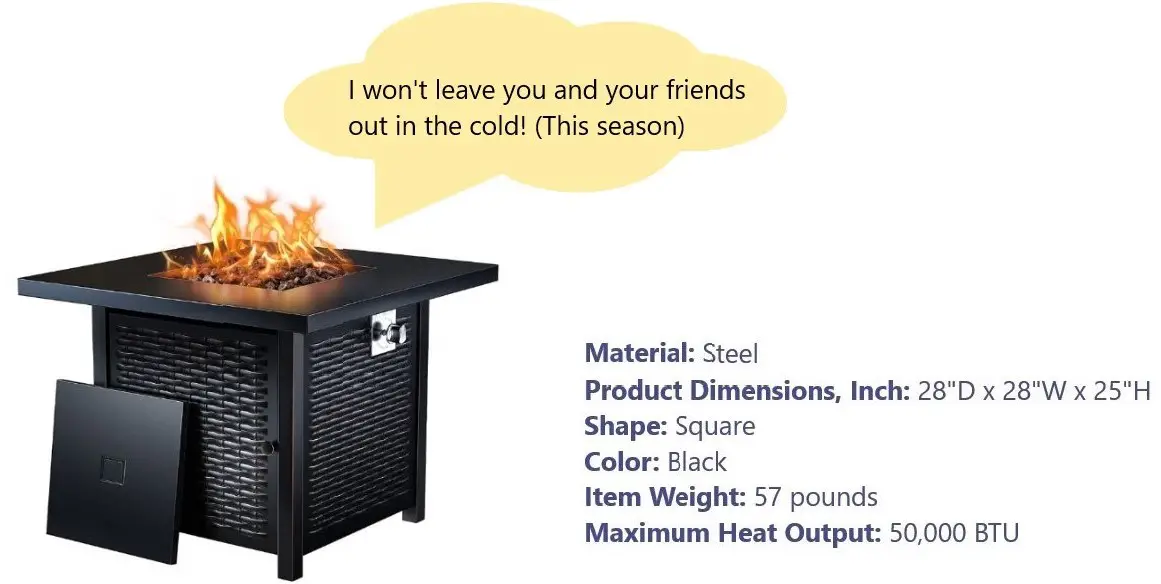 I find this square propane fire pit table from Ciays quite impressive. Not only it is stylish, but it's also functional, transforming any backyard setting into a warm, inviting sanctuary. It's worth mentioning upfront that these tables are the most budget-friendly on the market.
With a substantial heat output of up to 50,000 BTU, it's more than capable of providing enough warmth for everyone around it. But I must mention: you'll want to consider investing in a protective cover. Even though it's made from sturdy steel, protecting it from weather-induced rusting will prolong its lifespan.
Another important point to note is that you will need to purchase a 20lb propane tank separately. The design doesn't accommodate larger tanks, so keep this in mind when planning.
What I appreciate
Straightforward assembly process which takes just about 20-30 minutes.
Prolonged burning duration of nearly 12 hours on a low setting with a 20lb gas tank.
Ease of replacing the propane tank.
Diversity in size and shape to cater to varied customer needs.
Quite portable – 57 pounds.
Some drawbacks
Shallow fire tray necessitates a wind guard glass to prevent gusts from disrupting the flame.
Included lava rocks, albeit practical, lack visual appeal and create clutter. For aesthetic enhancement, one might consider substituting them with heat-resistant glass beads.
Some users noted that It can be hard to get the auto-igniter to light the fire – you need to hold the dial down for 20-30 seconds.
Use it for: This model is an excellent choice for budget-conscious consumers who desire a balance between functionality, aesthetics, and price. It's ideal for those hosting modest-sized outdoor family gatherings.
2. Best Stainless Steel Fire Pit Table with Wind Guard — U-MAX

The U-MAX Outdoor Fire Table isn't just any table. The size of this table is 43.25 inches in length, 27.5 inches in width, and 24.5 inches in height. This refers to a rectangular table with considerable surface area, making it a good fit for larger patio or deck spaces.
It combines the durability of high-quality 304 stainless steel with a powder-coated aluminum frame. But it doesn't stop there. This outdoor companion features a layer of PE rattan that mimics the natural aesthetic of traditional rattan while offering superior durability and affordability. Specially designed to withstand a variety of outdoor elements such as rain, snow, UV light, and intense heat, the PE rattan proudly stands its ground year-round.
Its operation relies on propane gas, ensuring a clean, smokeless BBQ experience. The push-button spark ignition system, which requires an AAA battery, guarantees easy lighting.
Additionally, this model features a convenient drawer design – simply slide it out, place your propane tank inside, connect it, then slide it back in place for a seamless setup.
It has everything you need to get started relaxing:
Burner lid
Tempered glass wind guard
11 lbs ocean blue decorative glass stone set
Accessories bag with necessary screws, nuts, and washers
This video provides a guide on how to set up the UMax 44 inches outdoor gas fire pit table.
What I appreciate
The blend of high-quality 304 stainless steel, powder-coated aluminum frame, and PE rattan offers both aesthetic appeal and longevity.
The almost complete package. With everything needed included in the box, there's no need for additional purchases except the cover.
The innovative drawer track design simplifies the propane tank installation process.
Easy turn and push the starter.
Some drawbacks
Although functional, the glass stones provided do not fully cover the flame tubes for a natural flame look. More stones might need to be purchased.
Assembly time may exceed expectations. The instructions could use a bit more clarification, and additional tools might be required for a smoother assembly process.
Parts are delivered in different boxes at different times.
Use it for: Featuring a sturdy, rust-resistant frame and all-weather PE rattan, this fire pit table is ideal for those looking to add a durable piece to their patio or backyard. Its rugged design will stand up to the elements, making it a dependable outdoor centerpiece.
3. Best Wicker Propane Fire Pit Table — Best Choice Products
Check the price on Best Choice Products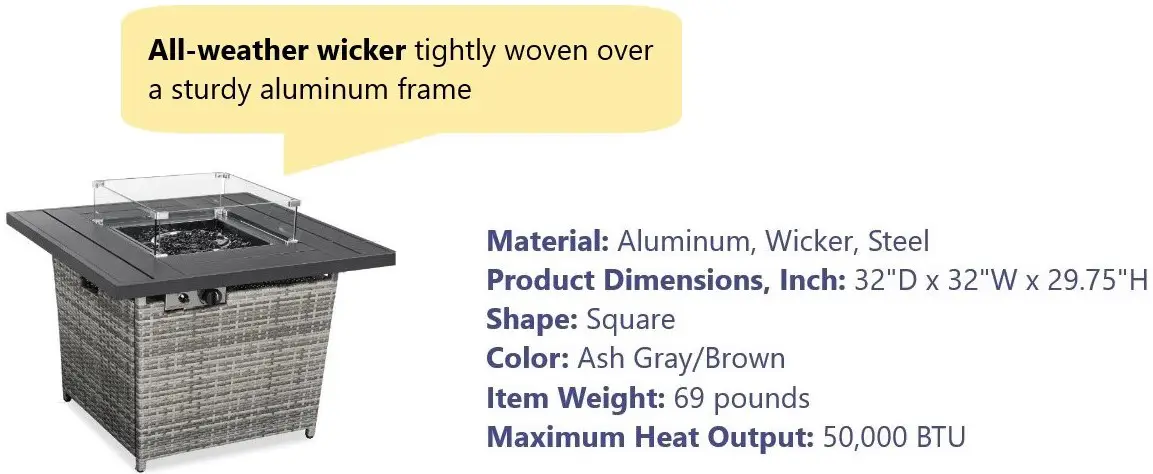 The Best Choice Products Outdoor Gas Fire Pit Table is a superb option if you're seeking an outdoor centerpiece that won't monopolize your deck space. The pit features high-quality construction, with the all-weather wicker tightly woven over a sturdy aluminum frame.
It generates a large, warming flame even at lower settings, and the addition of black glass stones gives it an elegant touch over the usual lava rocks. Plus, the table is dual-purpose, doubling as a chic accent table for your drinks and snacks, thanks to the faux wood grain finished tabletop.
Ease of use is also a crucial feature of it. With a magnetically latched side panel, you have quick and easy access to the propane tank for refills, replacements, or shutoffs.
Additionally, the table comes equipped with a cover for protection, a glass wind guard, glass rocks, and a burner lid.
Although it comes with a lightweight cover for protection, the cover might not hold up in severe weather. During a rainy and windy day, it blew off, so you might want to consider securing it more firmly or investing in a heavier cover.
This video provides an overview of the propane fire pit table from the BCP. It details the hidden tank storage, the protective glass wind guard, its dual functionality as a stylish accent table, and its enduring, high-quality construction. Lastly, it highlights the use of a weather cover to safeguard the table against the elements.
What I appreciate
The assembly is a breeze – quick and straightforward.
Convenient access to the tank, thanks to a magnetically-attached side panel.
The inclusion of a protective cover, glass wind guard, glass rocks, and a burner pit is an excellent touch, saving you from additional purchases.
Some drawbacks
A slight design flaw is that the wires and connectors are visible from the side. I would prefer if the sides extended all the way up to mask them, for a cleaner look.
On occasion, the igniter might not light the fire, necessitating the use of a match or lighter instead.
Use it for: With its compact square design and robust construction, it is an ideal choice for those with limited outdoor space, or for hosting intimate gatherings in a cozy, inviting setting.
4. Best Round Concrete Propane Fire Pit Table — SUNBURY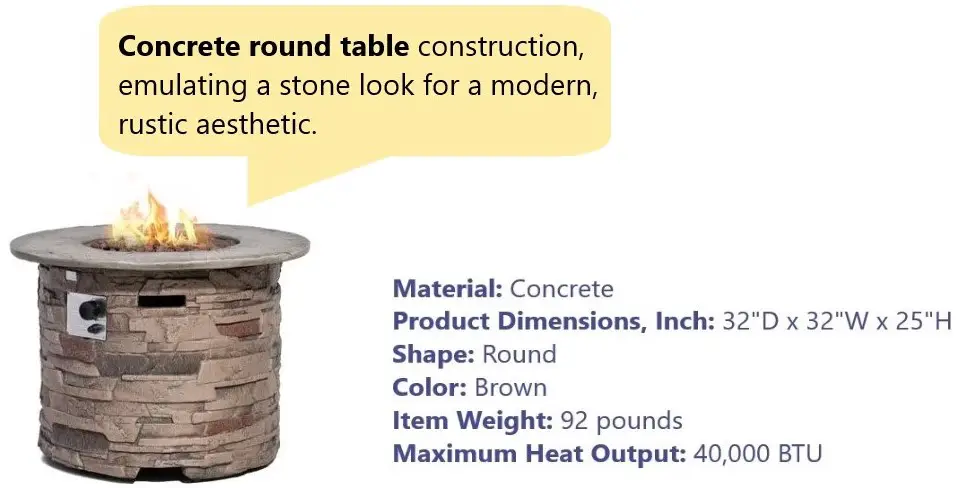 The SUNBURY Propane Round Fire Pit Table is a valuable addition to any outdoor area. It utilizes a 40,000 BTU propane burner, creating a clean, smokeless warmth. You can tailor the flame's intensity according to your comfort with its three-level adjustable knob.
Its standout feature is its concrete build, emulating a stone look for a modern, rugged aesthetic. The stainless steel burner ensures even heat distribution and durability.
Weighing 92 pounds, this fire pit is easily movable, courtesy of side handles, and it doubles as a side table for convenience. The package comes with volcanic stones, and It also operates with a standard 20lb propane tank (not included).
One aspect that I really appreciate about this concrete propane fire pit table is that it is easy to set up. There's no assembly required. Once it's delivered, all I need to do is install the propane tank, switch it on, and it's all set to provide cozy warmth.
What I appreciate
Adjustable flame knob for personalized comfort.
No assembly is required.
Modern, rugged aesthetic due to the stone-look concrete.
Some drawbacks
Although this fire table comes with a cover, it doesn't include a lid for the central fireplace.
Use it for: Ideal for intimate gatherings and small spaces, the SUNBURY Propane Round Fire Pit Table, with its adjustable warmth and modern rustic aesthetic, is a dream come true for enthusiasts of minimalist, rustic style.
5.  Best Rectangular Gas Fire Pit Table with Glass Top — EAST OAK
This table from East Oak has far exceeded my expectations. Its impressive 60,000 BTU heat output effortlessly warms gatherings of 8-10 people, turning brisk evenings into comfortable social events. During a daytime gathering, you can take advantage of its versatility by putting on the cover and using it as an additional serving surface for a potluck. When night falls, simply remove the cover, light the fire, and let it illuminate and warm your evening activities.
I'm especially fond of its spacious tempered glass surface, which offers 9.5 inches of room for various items. Cleaning up after the event? It's a breeze, thanks to the smooth, seamless glass top.
What impresses me most is the sturdy construction. With a 100% aluminum frame and UV-protected rattan covering, it's designed to resist rust and fading. Its durability is further enhanced by a sturdy tempered glass top and 304 stainless steel burner. Its user-friendly design is another winning feature, with an efficient auto-ignition system and flexible flame control that is easily managed with a simple turn of a knob. The piezoelectric ignition eliminates the need for batteries or lighters.
It also comes with fire glass, which resembles shattered blue mirrored glass. However, a word of caution: be extremely careful when unpacking and handling the fire glass. The edges can be quite sharp and could potentially cause cuts if not handled properly. I strongly recommend the use of protective gloves during this process.
The gas fire pit table comes with a custom-fit black cover made of premium 600D high-density, heavy-duty polyester fabric. This fabric is tear-resistant, flex-resistant, anti-static and anti-hook.
In the video below, Mike Healy expertly demonstrates this 60,000 BTU Outdoor Gas Fire Table. With features like tempered top glass, adjustable flames, and an easy assembly process, the fire pit also transforms into a functional table with an included lid.

What I appreciate 
The glass top prevents rusting.
Assembly is straightforward, even for one person.
Its height comfortably accommodates seated guests, unlike our previous fire table.
The piezoelectric ignition eliminates the need for batteries or lighters
Some drawbacks
The fire glass pieces are sharp and can potentially cause cuts.
Use it for: This model of gas fire pit tables is the perfect choice for those who love to host large intimate gatherings and need a multipurpose outdoor centerpiece that seamlessly blends style, functionality, and warmth.
6. Best Small Propane Firepit Table Set for Your Patio – Cosiest

Imagine a cozy campfire, right in your backyard or patio, under a starlit sky. This dream becomes reality with the COSIEST Fire Pit Table, an aesthetically pleasing and highly functional piece of outdoor decor.
With its robust terrazzo construction, this fire pit table sits at a height of 16.7 inches and has a diameter of 29.3 inches, just the right size for most outdoor spaces. The stainless steel burner bowl, rust-proof and durable.
The table's low-profile design, adorned with a stunning terrazzo texture, lends an elegant touch to your outdoor space. Despite its compact dimensions, two people can effortlessly move it. Now, here's an interesting quirk: the propane tank doesn't nestle inside the table, but sits in a matching side table about 5 feet from the fire. Whether that's a bonus or a drawback is up for debate, but it certainly gives you a nifty hideaway for your tank.
Included in this set are a wind guard glass, a tank side table for a 20lb propane tank, a rain cover, and complimentary lava rocks.
What I appreciate
You can use a tank cover as an additional table to put personal items.
The table itself is light enough that you can easily move it around. Just don't forget to turn off the gas tank and disconnect it from the table.
Some drawbacks
Although the external tank storage can be seen as a clever design choice, it could be inconvenient for some users, requiring extra space.
The fire pit does not come with a burner cover, which could be a disadvantage when trying to use the entire surface as a table when the fire is not in use.
While the terrazzo texture is indeed beautiful, it may require special care or cleaning materials to maintain its appearance.
Use it for: Its affordable, lightweight design serves as an exquisite gathering place for an "al fresco" celebration, an attractive addition to any patio or deck.
7. Best Low Profile Gas Fire Pit Table That Doubles as Coffee Table — BAIDE HOME

Showcasing a modern Flint Gray design and measuring 32.5 inches in diameter, this compact piece is not overly tall, standing at a height of just 14.5 inches. Its lower profile design, coupled with a robust, weather-resistant construction, offers over 6.25 inches of surface area on each side for resting drinks and appetizers.
Its 50,000 BTU heat output and 304 stainless steel burners generate a warm, inviting ambiance. Additionally, it features an easy-to-use electronic ignition and a 10-foot connector hose that attaches to a standard 20 lb. external tank. The package includes the fire pit table itself, blue glass rocks, a rain cover, a user manual, and batteries.
What I appreciate
Included cover effortlessly converts the fire pit into a coffee table when not in use.
The wide rim/border encircling the flame provides a convenient spot for resting drinks while the fire is lit.
The medium-weight design of the table instills a sense of sturdiness while also being easy to reposition as needed.
It arrives nearly pre-assembled. All that's needed is to lift the top, secure it with four screws, and then it's ready for you to add the stones and ignite it.
Some drawbacks
While the provided cover is helpful for protection against weather, it is somewhat permeable. If water is left on it, it may leak through, potentially damaging the fire pit.
They sell the 20lb. tank cover separately which could be a side table for putting the drinks on. Two colors are available: Matt Black, Matt Gray.
The rocks do not cover the round flame part all the way.
Use it for: This propane table is ideal for individuals who seek a combination of style and practicality in their outdoor spaces. Its functional design and cozy heat output make it a great addition to any patio, deck, or garden setting. With the addition of the lid, it seamlessly transforms into a handy coffee table, adding to its versatility.
8. Best Large Outdoor Propane Fire Table — Cosiest

This 2-piece outdoor table set from COSIEST in Bronze color is a stylish and functional addition to your deck, patio, or poolside.
Measuring 56″ long, 28″ wide, and just 12″ high, the fire pit table's compact and low-profile design creates a cozy, almost sunken feeling. The fire bowl within is 36″ long and 9″ wide, providing ample space for a warm, inviting fire. This makes it a wonderful spot for early-morning coffee or an evening glass of wine.
Despite its substantial weight of 110 pounds, the model's thoughtfully designed side handles offer the flexibility to relocate it as needed. This sturdy fire table set remains steadfast against windy conditions, yet its portability ensures adaptability for your changing setup.
The set includes lava rocks, a wind guard, a tank cover, and a waterproof cover.
What I appreciate
I like that the price includes lava rocks, a wind guard, a tank cover, and a waterproof cover.
No assembly is required.
Some drawbacks
No metal lid is included which is a bummer.
The wind guard doesn't fit properly into the space provided for the stones. Instead, it simply rests on the surface of the table, making it susceptible to movement or misalignment when bumped.
Use it for: The COSIEST fire table, blending generous dimensions with a soothing propane flame, is perfect for warm, convivial evenings. Ideal for those seeking a spacious, low-profile centerpiece for their outdoor gathering spaces.
Frequently Asked Questions
I've attempted to address common questions you might have about propane fire pit tables.
1. How safe are propane fire tables?
When used correctly and according to the provided instructions, it can be quite safe for outdoor use. Nevertheless, they should never be used indoors or in enclosed spaces due to the risk of carbon monoxide poisoning.
2. What benefits do propane fire pit tables have over wood-burning fire pits?
Several key benefits over wood-burning ones include:
Ease of use: These models do not necessitate the chopping or storing of wood, and they generate no ash or smoke, resulting in less cleaning and maintenance.
Safety: They are usually safer as they don't produce sparks or embers that could ignite a fire and often include automatic shut-off features.
Control: Propane fire pits enable you to control the flame height and heat output with a simple knob adjustment, unlike the wood and airflow management needed for wood-burning pits.
Eco-friendly: As they emit fewer pollutants and don't contribute to deforestation, propane fire pits are generally more environmentally friendly. They also avoid the need for lighter fluid or other environmentally damaging chemicals.
Remember, the specific advantages may vary depending on the model and intended use.
3. Is it possible to cook on a gas fire pit table?
Only some of them are designed to accommodate cooking. Always consult the manufacturer's instructions to ascertain whether your table is safe for cooking, and adhere to all safety precautions.
4. How long does a propane tank last on a gas fire pit?
The duration of a tank's life with a fire table is contingent upon the tank's size and the fire pit's BTU rating. Generally, a 20-pound propane tank should last around 8-10 hours with a fire pit rated at 40,000 BTUs.
5. What precautions should I take when using a propane fire pit table?
When operating it, you should always follow the manufacturer's directions and safety guidelines. Some common precautions include using the table outdoors in a well-ventilated area, keeping the table clear of flammable materials, avoiding usage during high winds, keeping a fire extinguisher nearby, never leaving the table unattended while in use, and not touching or moving the table while it's hot.
6. What is fire glass and how is it used?
Fire glass is tempered glass used in fire pits and fireplaces to augment the flame's visual appeal. It's available in various colors and shapes and is heat-resistant, so it doesn't melt, discolor, or release harmful gases. Fire glass is usually situated at the bottom of a pit or fireplace and can be paired with other decorative elements like lava rock or ceramic logs.
7. How can I select the best fire pit table size for my outdoor space?
In choosing the perfect fire pit for your outdoor space, it's crucial to take into account:
The size of your area: It should complement the space available and leave room for safety clearances away from flammable materials.
The purpose: The pit's intended use can guide the size you need.
The number of users: If you plan on hosting gatherings, you might need a larger fire pit table to accommodate more people.
8. What steps can I take to fix common issues with my table, such as problems lighting the flame or uneven heat output?
The troubleshooting process for your fire pit table can vary, but here are a few general tips:
Ensure your fuel source is correctly connected and switched on.
Clean your fire pit to remove debris or obstructions.
Modify the airflow or gas pressure for a more consistent flame.
Inspect the ignition system and replace any faulty parts.
9. What are some sought-after features and accessories for propane fire pit tables?
There are plenty of exciting features and accessories available, including:
Protective covers: These protect your unit from weather damage when it's not in use.
Fire pit lids: These can be used to cover your table when not in use or convert it into a functional table.
Wind guards: They shield the flames from the wind, ensuring a more stable flame and heat output.
Fire glass: A decorative accessory that enhances the flame's appearance. It is available in various colors and shapes and can withstand high temperatures. You can also use lava rocks.
Natural gas conversion kits: These kits are handy for those with access to a natural gas line and who want to convert their propane fire pit.
Tool sets: These usually include poker, tongs, and other tools for adjusting the flames and rearranging lava rocks or fire glass.
Propane tank covers: These conceal the propane tank for a sleeker look.
Propane tank itself.
Please note that the specific features and accessories can differ based on the manufacturer and model.
Summary
There's a wide variety of gas fire pit tables on the market, all designed to suit different aesthetic tastes, outdoor spaces, and budgets. Whether you're looking for a cozy spot for your morning coffee or a stylish centerpiece for evening gatherings, there's a model out there for you.
Hopefully, my list of the best propane fire pit tables has given you a good starting point in finding the right table for your needs!
Latest posts by Cindy Becker
(see all)