I have recently come across an amazing product, which is the rice cooker.
It has made the evenings in my household much easier when preparing dinner for my family. I used to only use this gem to cook rice, but I discovered its potential in cooking other types of foods as well.
You have probably come across this article because you are in the same boat. If the question has crossed your mind of, can you cook meat in a rice cooker, you have come to the right place.
Final verdict: AMAZING!!! 10/10 would cook again! I cooked 3 cups rice with chicken stock and soy sauce in normal rice cooker proportions of rice to liquid. 2 KFC thighs and 1 leg. Good dash of salt. Shredded the skin and meat. Give it a try – it is totally worth it. pic.twitter.com/i2OGJMnnPd

— FromCaliko 🦈 Anime Detour (@FromCaliko) December 16, 2019
The goal of this article is to inform others who are looking for new cooking ideas of this incredible appliance that many most likely already own. I guarantee that you will never undermine the abilities of this handy appliance again.
After reading this article, you will officially know:
If you can cook meat in a rice cooker
If you can cook chicken in a rice cooker
If you can use chicken broth in a rice cooker
A couple different recipes for cooking chicken and pot roast in a rice cooker
And what types of foods you can cook in a rice cooker
Contents
Can You Cook Meat in a Rice Cooker?
One night when our oven was not working, I needed to cook some meat for my family. I had the magical thought of cooking meat in our rice cooker. I had never used this device for anything other than rice, but the thought intrigued me. Therefore, I decided to begin doing research and take a chance at this.
After experimenting with different types of foods in the rice cooker, I must start with telling you that almost anything will cook in this device.
Since sizes can differ, I recommend starting off with small portions of meat until you become aware of how much meat your appliance can fully cook.
Y'all cook meat in the rice cooker??? https://t.co/lxo7ll3yys

— 🅿️lato ®️ 🅿️lomo (@NigelBigMeech) July 18, 2019
When you think that your food is done, take it out and ensure that the middle is not pink. I also suggest checking its temperature. If it is not fully cooked, cut it into smaller pieces and place it back inside the appliance. You will know next time how small you should cut your meat up.
From my experience, I will tell you that my meat always comes out very juicy and tender, making the rice cooker one of my favorite ways to cook meat. By using this gadget, the nutrients are retained, and the food always turns out to be delicious. My children even have asked me what I did differently.
For an in-depth video on how to use this unique cooking tool, watch WebstaurantStore's YouTube video. In the video, a chef named Matt Schuler will show you how to cook rice in this magical machine. This video is great for those who are new to using these products as well as those who have been using them for a long time.
Since we are talking about trying new cooking tools, you may also be wondering if metal can go in the oven. No worries, I have written an article on this topic which you can find here. It will tell you all that you need to know about metal being placed in the oven.

Can You Cook Chicken in a Rice Cooker?
Another great thing about the rice cooker is that you can cook chicken in it. In a jokingly way, I sometimes call it an everything cooker. The reason for this is because it is fantastic at cooking so many things besides rice. As a matter of fact, one of my most recommended foods to cook in this appliance is chicken. You can give your oven and stove some time off by learning how to use this cooking tool efficiently.
After my first time cooking chicken in a rice cooker, I was immediately blown away by the taste. It was tender, comforting, and flavorful. Although it may take longer, I promise it is so worth it in the end. Minimal effort is also a benefit of using this device to cook your chicken, and rice on the side is a phenomenal choice!
Steak is another popular meat choice across the world, which is why I am happy to inform you that steak can be cooked in this useful device. If you would like to watch someone cook steak in a rice cooker, check out Lone Urban Hobo's YouTube video below. He provides detailed steps of the entire process.
Next, let's discuss using chicken broth.

Can You Use Chicken Broth in a Rice Cooker?
Yes, you can use chicken broth in a rice cooker. In fact, it is recommended as a great alternative to water. Chicken broth will give it more flavor. I personally enjoy cooking my rice in chicken broth because it gives it a salty, savory taste.
Most people have only ever used water in their rice cooker. If you are one of those people, my advice is to try using chicken broth instead. I guarantee you will be very impressed and most likely will never go back to using water unless you are out of broth.
Alright, so experiment is a success. You CAN use leftover chicken broth/drippings in a rice cooker. Tastes like chicken. pic.twitter.com/Pnad3yeDq2

— Isel 🏳️‍🌈💖💜💙 (@FallenIsel) November 21, 2020
Recently, one of my aunts mentioned how her food does not turn out as tasty as mine. Once I let her in on my secret of using chicken broth instead of water, she has never looked back. Give it a try; I believe you will be very satisfied with the results.
Always make sure to check the expiration date on any product that you plan to cook with, including your canned goods. If you are wondering if you can eat expired jelly, check out this article. I have written about this topic and think it is worth your time if you have come across an expired jar of jelly and want to know if you can still eat it.

Rice Cooker Chicken Recipes
I will share with you two rice cooker chicken recipes that I love. My suggestion is to try them out and let your family have a taste. They will not be disappointed!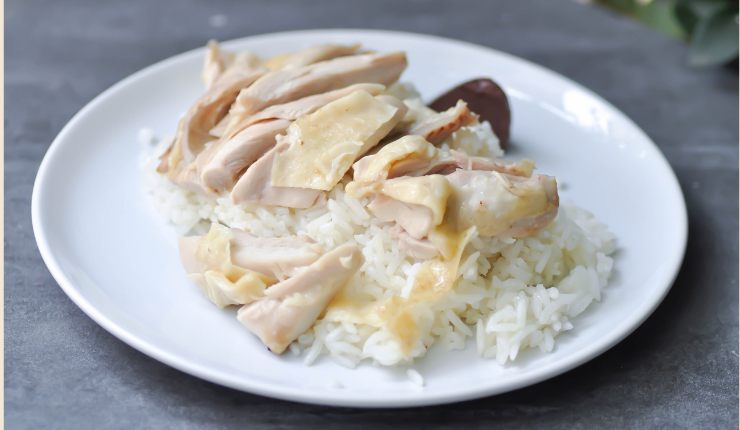 Ingredients you will need:
½ cup soy sauce
6 garlic cloves
4 slices of ginger root
1 teaspoon of monosodium glutamate
1 teaspoon of salt
½ teaspoon of pepper
½ teaspoon of sesame seed oil
1 ½ teaspoon of corn starch
1 cup of water
4 boneless chicken thighs
Directions:
Put the soy sauce, sesame oil, salt, pepper, and monosodium glutamate in a Ziplock bag and close. Squeeze the bag to mix these ingredients together. Open the bag and place the chicken thighs inside. Begin squeezing the bag again so that the ingredients will coat the chicken. Refrigerate the bag with the meat inside for one hour.
Stir together the 2 tablespoons of water and cornstarch in a bowl. Pour everything from the Ziplock bag into the device and then pour in the mixed water and cornstarch. Mix everything together. Make sure that the chicken thighs are covered with the sauce mixture. Add water to cover the chicken and begin stirring.
Close the lid. Place the settings on the regular rice setting and press start. Let it cook for 20 minutes. Once you see that steam is flowing out, set the timer to 10 more minutes. After the timer goes off, take the lid off and stir the chicken. Add 10 more minutes and begin cooking on the warm setting. Let the chicken sit in the keep-warm setting for 20 more minutes before you serve to eat.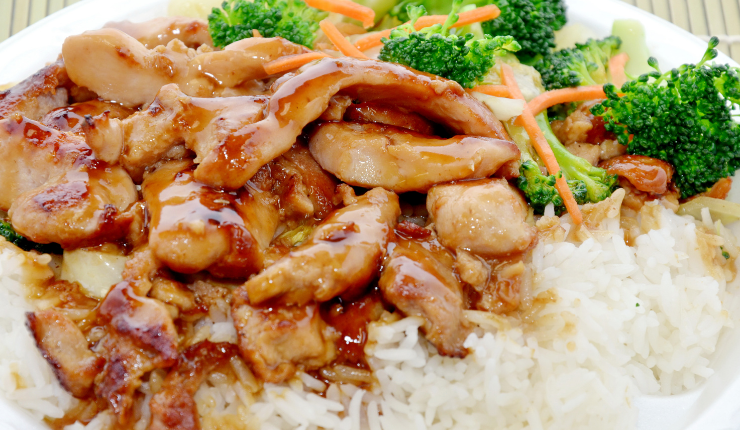 Ingredients you will need:
2 cups of rice
½ pound of chicken thighs
1 tablespoon of potato starch
¼ stalk of white leek
Lettuce, tomatoes, lemon, and peppers for garnish
1 tablespoon of soy sauce
½ teaspoon of ginger juice
1 tablespoon of mirin
1 tablespoon of sugar
Directions:
Cut the chicken into small slices. Poke each slice with a fork a few times. Slice the white leek and place onto the cooking plate. Pour corn starch on the chicken and white leek. Season the chicken with the mixture.
Place the water and rice into the inner pan and put it in the rice cooker. Set the cooking plate inside the inner pan. Go to the plain/synchro-cooking menu and press start.
After it is finished cooking, serve the chicken with the garnish. Season with peppers and other ingredients if you wish.
Counter Clutter has created a YouTube video that you may find beneficial when it comes to cooking chicken in your rice cooker. In the video, teriyaki chicken, broccoli, and white rice are being prepared, and it looks amazing! This is a straight to the point video that will not take up much of your time, and I believe that you will be glad that you watched it.
Now, I will provide you with pot roast recipes.

Rice Cooker Pot Roast Recipes
Pot roast is another great meal that can be cooked in a rice cooker, especially on cold days. Below, I will share with you a couple mouthwatering pot roast recipes that I believe you will find useful on days that you do not feel like cooking over a stove.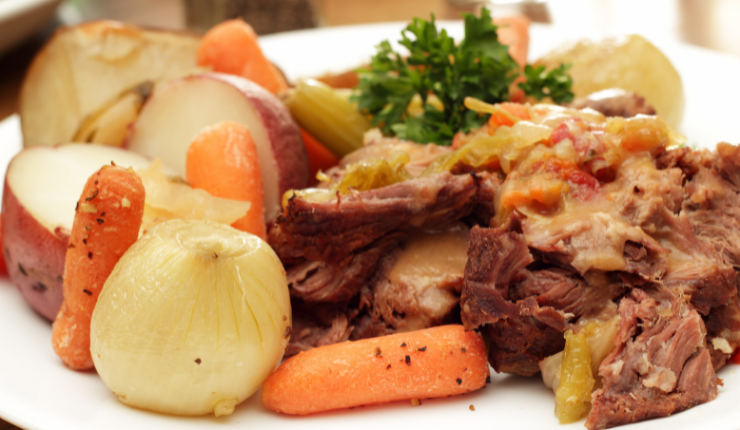 Ingredients you will need:
2-pound pot roast
1 stick of butter
2 packets of Lipton onion soup
½ cup of flour
Directions:
Cut the roast up into small chunks and coat them with flour. Add the stick of butter and press the cook button. When the butter is fully melted, put the pot roast inside the rice cooker.
Add the two packets of Lipton onion soup and beef stock. Shut the lid and press cook. The pot roast needs to cook for three hours. If it changes to warm before three hours, pour in ¼ cup of water and press cook again until the three hours is up. Make sure the pot roast turns brown on all sides.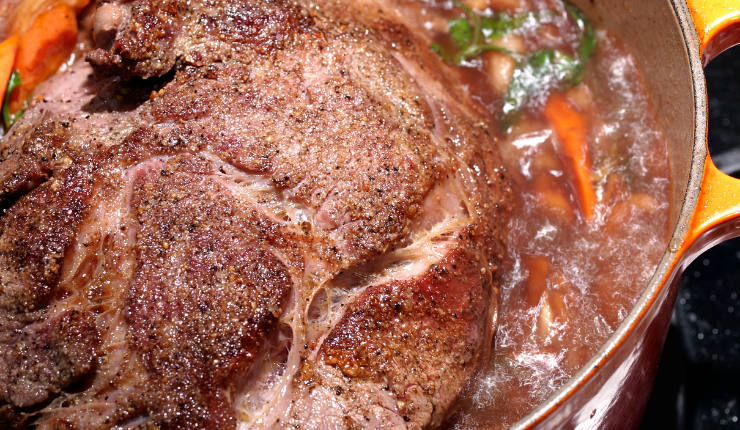 Ingredients you will need:
4 cups of broth
4 small potatoes
2 teaspoons of minute tapioca
1 large onion
2 cups of baby carrots
1 celery rib
Salt and pepper
2 tablespoons of ketchup
4 garlic cloves
1 bay leaf
Directions:
Place all ingredients listed in the device. Set the settings to keep warm and let ingredients cook for 24 hours. Make sure that you do not use cook settings because that will be too hot for this pot roast recipe.
After 1 day has passed, check the pot roast to ensure that it is fully done. Add any seasonings that you desire before serving. Enjoy!
What Can You Cook in a Rice Cooker?
As surprising as it sounds, you can cook almost anything in a rice cooker. I will give you a list of different types of foods that you can try in this special device. I have tried about everything and have not found any type of food that I am not impressed with when it comes out of my device.
The following are several types of foods that you can cook in a rice cooker:
Rice
Chicken
Shrimp
Sausage
Soup
Steak
Quinoa
Vegetables
Macaroni and Cheese
Pork
To get some ideas on simple rice cooker recipes, consider watching Taste Show's YouTube video. This short video will show you a couple different ways to make delicious rice in this appliance.
Pizza is one of my favorite meals to eat with my family. It is not only very tasty but also quick to make. If you want to know how long a frozen pizza can sit out, take a look at my other article that explains the details on this. You can be redirected to the article about frozen pizza by clicking here. If you are a pizza lover like me, you should also try out this pull-apart pizza bread recipe that can be made in a rice cooker.

Useful Resources
Conclusion
I hope this article answered your question of can you cook meat in a rice cooker. This is an excellent question that people who find joy in experimenting with different cooking tools usually think of. Have fun while experimenting with your rice cooker as it is one of the best cooking appliances that I have surprisingly come across. Good luck and happy cooking!
Latest posts by Cindy Becker
(see all)