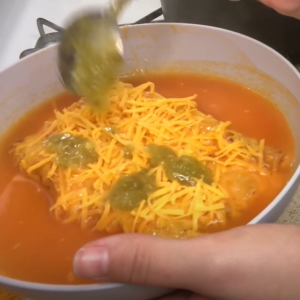 Chicos Tacos
Some time ago, when my husband and I were travelling, we found a restaurant in El Paso called Chicos Tacos. We looooved the food!
I have spent weeks trying to recreate this recipe. And there it is! Although it tastes a bit different, it's still pretty close to the original one.
I like to cook my chicos tacos on cold days because it can warm up like nothing else.
Ingredients  
Tomato Sauce
5

tomatoes

1

can

stewed tomatoes

5

cloves

garlic

1

onion

8

cups

chicken broth

1

tsp

salt
Green Salsa
5

jalapenos

3

tomatillos

1

serrano pepper

1/4

onion

2

cloves

garlic

1/2

tsp

salt
Instructions 
Step 1

Put your jalapenos, serrano pepper, onion and garlic in a pot filled with water and bring to a boil. Wait a little to add the tomatillos in, because they cook faster.

Step 2

Repeat the same thing for tomatoes. Bring them to a boil and cook for about 7 minutes, or until cooked.

Step 3

After 5 minutes, add in tomatillos to the jalapenos, serrano pepper, onion and garlic. Cook the ingredients for about 10 minutes.

Step 4

Combine the cooked tomatoes with garlic, onion, stewed tomatoes and 1/2 tsp of salt. Add 1/3 cup of water and then use your blender.

Step 5

Add your tomato sauce into a pot, bring to a boil and cook it down until you get rid of that raw garlic and onion flavor. It takes me about 15-20 minutes.

Step 6

Combine the cooked jalapenos, serrano pepper, onion and garlic with salt and 1/3 cup of water. Use your blender to puree everything.

Step 7

Add 8 cups of chicken broth to the tomato sauce.

Step 8

Cook the flautas just until golden brown.

Step 9

Let's assemble everything! Sprinkle some cheese over the flautas and cover with tomato sauce. Add in some green salsa.

Bon appetit!

Your Chicos Tacos is now done! I'm sure this recipe was worth the time you have spent.
Latest posts by Cindy Becker
(see all)