Did you know that you should use a certain kind of wok on a glass top stove? Neither did I — until I became the proud owner of both kitchen items.
Since I was a novice, I decided to rely on information from forums and websites in order to further my education. In the end, I became something of an expert myself — although I'll readily admit that there's always more to learn.
For example, there's no point in getting a traditional-shaped wok unless you're working with a high-powered gas burner. For a glass top stove, you want to invest in a flat-bottomed one.
You can also use a regular skillet instead of a wok, but where's the fun in that? Besides, it can be hard to find a skillet that's large enough to accommodate a stir-fry without spilling vegetables everywhere.
Once you're finished reading, you should understand:
Why flat-bottomed woks are the way to go
The names and features of several top-rated woks
Which features you should pay attention to — and why
In short, you'll know how to find the wok for glass top stove that works for you. You may even learn a thing or two about how to preserve both your pan and your stove:
I really need a wok. But I feel like in the excitement of wok-ing I would just slam it onto our glass stove top and destroy it. I'll save myself both expenses 😂😂😂

— Ana (@anag9) October 2, 2019

If you're having trouble picturing what these kitchen items look like, here are a couple of prime examples.
Note that these are only suggestions. They're decent options, but you'll find better ones in our in-depth list below.
Best Wok for Glass Top Stove
Based on my research — and, of course, my own personal experience — I've found that these models represent the best that the market has to offer.
I've started with my top pick: The Calphalon Signature Hard-Anodized Nonstick Wok. Since the T-fal Specialty Nonstick 14 inch Jumbo Wok Cookware is a close runner-up, I've chosen to highlight that one as well.
Below, you'll find a complete buyer's guide, as well as reviews of some other excellent flat-bottomed woks.
Ready to get started? Let's dig in!
My Top Pick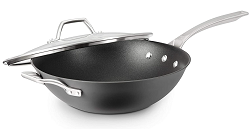 What's inside?
Heavy-gauge, hard-anodized aluminum construction
Nonstick coating
Tempered glass lid
Lifetime warranty
Best for
Home chefs who don't have a lot of time to devote to cleanup — the nonstick coating makes this chore a breeze.
Buying Options
The fact that Calphalon is willing to back up this product with a lifetime warranty speaks volumes about the construction and durability.
Also Great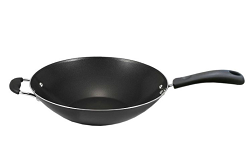 What's inside?
Durable aluminum construction
Oven-safe
Dishwasher-safe
Stay-cool handle
Best for
Cooking for larger groups — the 14-inch construction allows you to serve up huge portions at a time.
Buying Options
This isn't the only 14-inch model in our roundup, but we think it gets the job done more efficiently than any of the others.
Buyer's Guide
In this section, we'll discuss the features and qualities that you want to be on the lookout for when shopping for this type of product.
What Wok Material Is Best for a Glass Top Stove?
For obvious reasons, you'll want to be on the lookout for a material that won't damage your glass cooktop by scratching it.
Aluminum, copper, and stainless steel are all solid options. But make sure that porcelain coating is in place before you buy a cookware made of this material.
Speaking of which, are there any materials that should be expressly avoided? Yes — the aforementioned cast iron is one, unless it's porcelain-coated. We would also steer clear of woks made from stoneware or ceramics if you have a glass top stove.
Should you need help seasoning your new wok, this video demonstration should have you covered:
In this article, you'll learn how the right wok oil can enrich your cooking experience.
What Type of Wok Is Best for a Glass Top Stove?
It's better to stick to flat-bottomed items when you're searching for one that will be compatible with a glass top stove. If the pan has a round bottom, you won't be able to balance it properly.
Here's what the folks at Uno Casa have to say on the subject:
A flat-bottomed cast-iron wok is preferred over a round one from a heating perspective, as the entire bottom of the pan can make even, complete contact with the burner.
If the mood strikes, you can even use it outdoors:
Me to my friend on Friday: i want a wok but i have a glass top electric stove and i need a gas range for that
Friend: [turns around and points at the gas side burner on the grill]
Me: goddammit

— Lindsay (@crashkrispy) April 26, 2022

That said, you may be able to solve this problem by investing in a wok ring. If you already own a unit with a round bottom and it's suitable in every other respect, then this could be the wisest course of action for now.
Is a Light or Heavy Wok Better for a Glass Top Stove?
Lightweight items are easier to manage on every type of stovetop, but they're especially ideal for glass top stoves.
With a lightweight model, you'll be able to stir faster, thereby allowing for more even browning. It will also be easier to handle when it's time to do the dishes.
Here's a tutorial on how to stir-fry on a glass top electric range:
What Wok Size Is Better for a Glass Top Stove?
Size isn't the most vital factor when you're making your choice, but it does play a role.
In essence, you want to make sure that the unit will completely cover the burner without overlapping it. Once you've determined that every part of the bottom will be in contact with the heat, you've found a model that will work with your stovetop.
Obviously, this depends on the size of your burners. But we've found that 12- to 14-inch woks are generally suitable.
Note that you can move the appliance from burner to burner if necessary, as they've pointed out over at Proline Range Hoods:
The burners on an electric glass top stove take a while to heat up and cool down. So if you need to change the temperature, consider setting up two different burners.
Is a Nonstick Bottom Better for a Glass Top Stove?
Finding out how to use this appliance with a glass top stove can be a challenging prospect, as we've seen:
Still trying to figure out how I'm supposed to use this wok with a glass top stove o_O

— Lupo (@therealjoelupo) August 21, 2012

In general, cookware with a nonstick bottom is ideal for a glass stovetop. This holds true for woks as well.
Unlike harsh metal, a nonstick coating won't scratch the surface of your glass top stove. As a bonus, they make the utensils very easy to clean.
Need tips on how to remove scratches from your stovetop? Check out this demonstration:
Do You Need a Lid?
Not all woks come equipped with lids. In fact, even some of the more expensive models are sold without lids.
The problem with this is that many recipes require you to cover the pan while you're cooking in order to keep the heat in. If you want to steam-saute the vegetables for a stir-fry, for example, a lid provides the most effective way to go about it.
Since choosing an appliance without a lid means limiting the types of cooking you'll be able to do, we would suggest restricting your search to models that come with their own lids. Tempered glass lids are a better choice, but be sure the glass is shatterproof.
About Wok Handles
The material of your wok's handles is nearly as important as the construction of the unit itself.
You're looking for a metal with high heat resistance — one that will stay cool for a while after the pan heats up. Stainless steel, carbon steel, and iron are all solid recommendations.
Try to avoid plastic and wooden handles. Plastic will melt when it comes into contact with the heat, and wooden handles are liable to burst into flame if they get hot enough.
11 Best Woks for Glass Top Stove

1. Calphalon →

When you want the peace of mind that comes from owning a product meant for a lifetime of use. My Top Pick

2. T-fal →

When you're cooking for a large group and need extra room for all those tasty ingredients.

Also Great

3. Bruntmor →

For cooking applications that require a bit of steaming.

4. Joyce Chen →

For shoppers who want to get the most for their buck.

5. Cuisinart →

When you'd rather spend time with your guests than washing all the dishes by hand.

6. Lodge →

Ideal for induction cooktops.

7. Saflon →

Plenty of attention to detail — including a stay-cool handle — make this unit a standout.

8. Rachael Ray →

Exceptionally lightweight and easy to use.

9. TeChef →

A versatile unit that's suitable for induction and electric cooktops.

10. MICHELANGELO →

Offers superior heat distribution, as well as its own lid.

11. Craft Wok →

Scratch-resistant and comes equipped with its own spatula.
Read the in-depth reviews of each best wok for glass top stove.

1. Calphalon Signature Hard-Anodized Nonstick Pan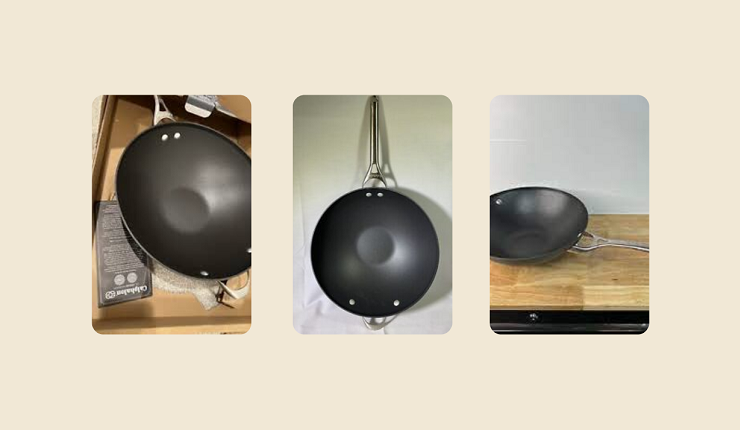 As we've established, this model has earned the top spot on my list, just above the T-fal unit described below. It has a durable build and nonstick coating, and it's even suitable for use in the oven.
Features:
Constructed of heavy-gauge, hard-anodized aluminum
Oven-safe
Features a nonstick coating
Can be used with metal utensils
Pros:
Because this one has a lid, you can cook a variety of dishes. Also, using the lid will save you a lot of time, which is vital when running late for work.
This heavy bottomed pan ensures you won't burn your favorite salted caramel thanks to excellent heat distribution.
The riveted handle is guaranteed to stay in place when flipping your pancakes or mastering other fancy tricks.
After cooking, the last thing you want to do is clean up. The Calphalon model, however, lets you chill out. You won't need more than three minutes to clean it.
You're in luck if you're wondering how to cut fats out. The amount of oil you need when cooking is very small, just a tiny drop is all you need. Another benefit is saving money on oil.
The company offers a lifetime warranty, which is a good sign that if something goes wrong with the unit, you can get your money back. What else to look for in a wok?
Cons:
Non-stick coating may rub off, even though it says that the model is metal-utensil-safe. Keep in mind that using a metal fork to get a taste of your dish is a bad idea.
Be careful when using a dishwasher — the coating will come off even faster that way. It's relatively easy to clean, so don't be lazy to make a few swirls with a sponge.
Best For:

Home chefs who want a durable, long-lasting unit that cleans up easily and can be used to cook a variety of dishes.
You can see the Calphalon Signature Hard-Anodized Nonstick Wok in action if you watch this video:
This video demonstration makes it easy to spot Calphalon's attention to detail, from the superior nonstick coating to the well-designed handle.
Buying Options
Looking for more kitchen cleaning tips? You can find them in this article.

2. T-fal Specialty Nonstick 14 inch Jumbo Wok Cookware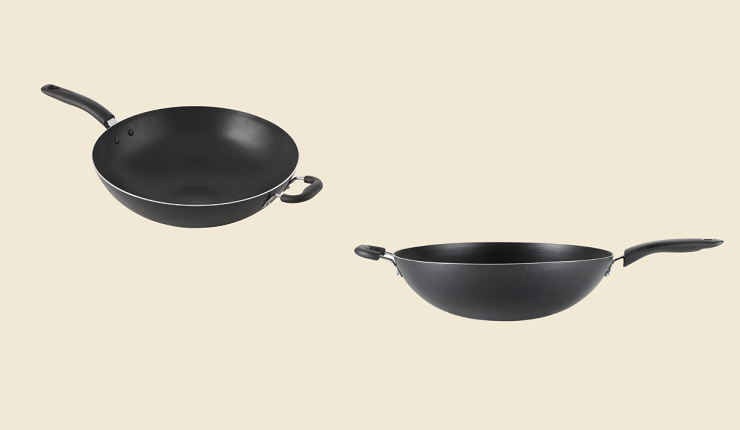 This is another great option, and it comes in a larger size in case the Calphalon model isn't sufficient for the amount of people you're serving.
Features:
Durable aluminum construction
Dishwasher safe
Oven safe
Nonstick coating
Stay-cool handle
Pros:
The larger size makes this unit suitable for large families or groups — you can cook a bunch of your favorite food for the next get-together using just one pot.
Because it's dishwasher safe, you can kick back and relax once you're finished cooking for the evening.
The sturdy aluminum construction allows the unit to conduct heat evenly and efficiently, so your meals will turn out right with little effort. No worries about burnt food and wasting forever on cleaning.
Thanks to its flat bottom, this model is perfect for glass top stoves. It's much better at stability than any item with a rounded edge bottom. And I'm sure you don't want to accidentally spill your delicious pasta sauce.
You can cut way back on the amount of oil you use in recipes, since the nonstick coating requires very little lubrication. Unwrap your healthy recipes to test out this unit.
Cons:
The nonstick coating might not last as long as you'd hoped it would. Make the most out of it in the beginning of usage.
Sometimes bubbles may form on the coating, which is both problematic and unsightly.
Best For:

Chefs who need to cook large quantities of food at once. Perfect for large families and holiday cooking.
If you're having trouble visualizing the shape and depth of this pan, take a look at this video tutorial:
As you can see, the coating on the bottom makes this an ideal pick when you're working with a glass top stove.
Buying Options
3. Bruntmor Pre-Seasoned 14-inch Cast Iron Pan With Wooden Lid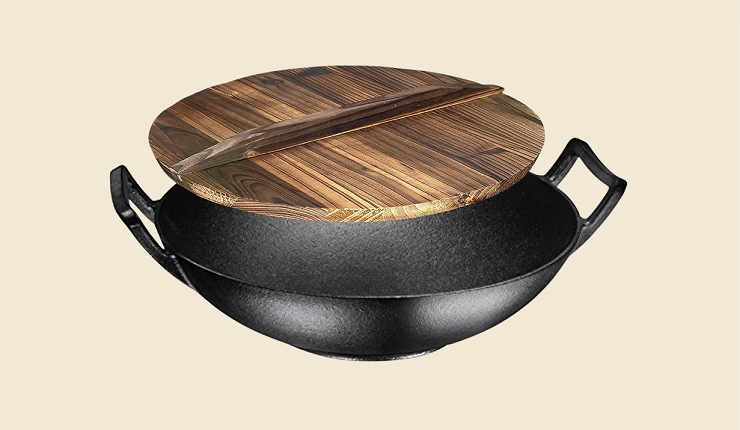 Like the previous offering, the Bruntmor is a 14-inch model that can handle tons of ingredients at once. Although stir-frying is a fast and easy cooking application, it's always nice to be able to get everything done in one batch.
The flat base will balance evenly on a glass top stove, making sure that the heat distributes evenly. Note that this model is not dishwasher safe — you'll need to wash it using good old-fashioned elbow grease.
This is a very attractive unit, but it does have a few drawbacks. The main factor to be aware of is that the pan is very heavy. The extra weight provides stability, which is a good thing, but it also makes it difficult to maneuver.
Features:
Flat, even base
Nonstick coating
Sturdy cast iron build
Requires hand washing
Pros:
The sturdy base keeps the item steady on the stovetop while you're stirring and shaking the contents.
This model is pre-seasoned and ready for your culinary experiments right out of the box.
It comes equipped with a lid for steaming. You will especially love it if you appreciate healthy cooking.
The durable build ensures that you'll get many tasty years of use out of this product.
Its superior construction allows it to distribute heat evenly and cook any level of difficulty dishes – you don't have to worry it might burn or undercook.
It's very easy to use. Even people who has never cooked before have all chances to make the perfect dish.
This is a highly versatile device that can handle a number of cooking applications. If I were to choose just one pan for my kitchen, that would be it.
Cons:
The model is very heavy due to the cast iron construction. It's the most common reason why people dislike this pan.
The lid doesn't fit quite tightly enough, and the heat might escape. Not a big deal for me, but some other people considered it as con.
Sometimes food may stick to the pan, despite the preseasoned nonstick coating. That's why it requires gentle use.
Best For:

Stir-fries and other dishes that require steaming or steam-sauteing.
Take a look at what the Bruntmor has to offer by watching this video review:
In my opinion, it's a good thing that this unit comes with a loop handle on the opposite side — it weighs over 10 pounds. Though it has many good qualities, only you can decide whether you're up to the challenge of handling such a heavy pan.
Buying Options
4. Joyce Chen Pro Chef 14-Inch Flat Bottom Wok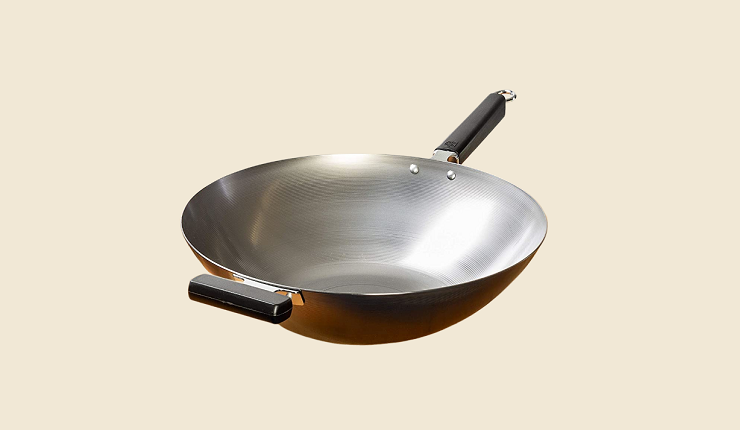 On this traditionally lovely model, you'll find a long handle on one side and a small one on the opposite side. Both handles feature a resin construction, which ensures that they'll stay cool while you're cooking.
It is worth noting that the metal darkens. But don't worry! This is all part of the process, and while it can take months for the pan to turn completely black like cast iron pans, there is none of the bulk and brittleness inherent in this construction.
Features:
Attractive and durable alloy steel
Nonstick properties
Safe to use with metal utensils
Pair of stay-cool handles
Must be washed by hands
Pros:
It offers even heat distribution, so you can create your favorite dishes with ease — whether it's hard candy or scrumbled eggs.
This unit offers great value for each dollar spent. It is cheaper that any other one out of my comparison. Despite this, the quality is very good, and you can turn your kitchen into a restaurant without spending a fortune.
It's a versatile model that comes in handy for everything from stir-fries to steamed veggies to homemade popcorn. Highly recommended for busy families — no need to change a dozen of pots to make dinner.
It's very easy to clean, which is super convenient when cooking one dish after the other.
Like many of the other models listed here, it requires very little oil in order to function properly and produce great-tasting food.
Cons:
The nonstick surface is prone to nicks and scratching. Make sure to never use metal utensils when cooking.
We've found that the handles may come loose after a few uses.
Best For:

Shoppers on a budget who want the best quality at the best price.
If you need a few guidelines on how to season your new Joyce Chen Pro Chef wok, take a look at this instructional video:
As you can see, it will take 5 to 10 minutes to remove the protective coating. Don't be tempted to skip this step, or your ingredients will suffer as a result.
Buying Options
Still looking for tips? You'll find plenty in this article.

5. Cuisinart Chef's Classic Stainless 14-Inch Wok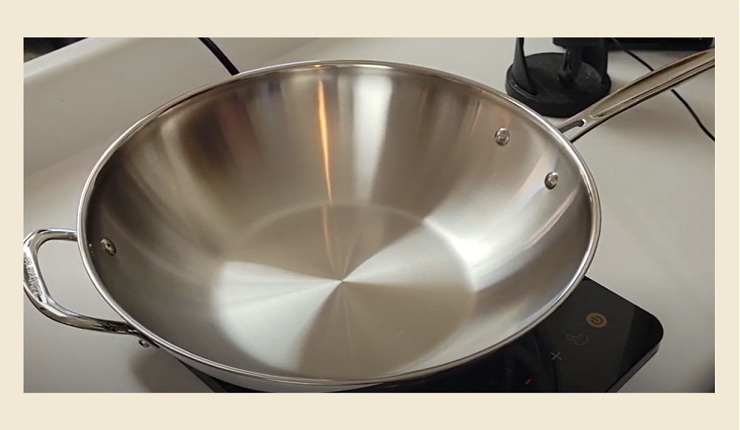 Cuisinart is a big name in the kitchenware industry, and for good reason. Their products are known for their reliability and efficiency over long years of use, and their stainless steel woks are no exception.
If it's a lightweight pan you're after, this model could be the one for you. It weighs in at just under 3 pounds, so you'll be able to toss and flip those ingredients to your heart's content — and without worrying about carpal tunnel syndrome.
Features:
Stainless steel construction
Dishwasher safe
Oven safe
Features stay-cool handles
Nonstick qualities
Pros:
The unit comes with its own tightly fitting lid for easy steaming. There's no chance for steam to escape — the meal will be done as quick as possible.
The nonstick surface requires less oil than most of the competition, making for healthier cooking.
The surface heats up quickly, so you can start your cooking adventure right away and get dinner on the table that much sooner.
This model is specifically designed to eliminate hot spots. It offers excellent heat distribution to evenly brown every piece of meal.
Cons:
The nonstick properties aren't as effective as on some other models.
The surface can be difficult to clean, especially if you allow it to sit for too long before washing.
Best For:

Cooks who prefer a lightweight pan that they can lift easily in one hand.
You can get a closer and more detailed look at the Cuisinart model by watching this informational video:
Though the handles are made of metal, they're designed to stay cool as the rest of the unit heats up. The loop handle on the opposite side makes this pan even easier to manage.
Buying Options
6. Lodge Pro-Logic 14-inch Wok with Flat Base and Loop Handles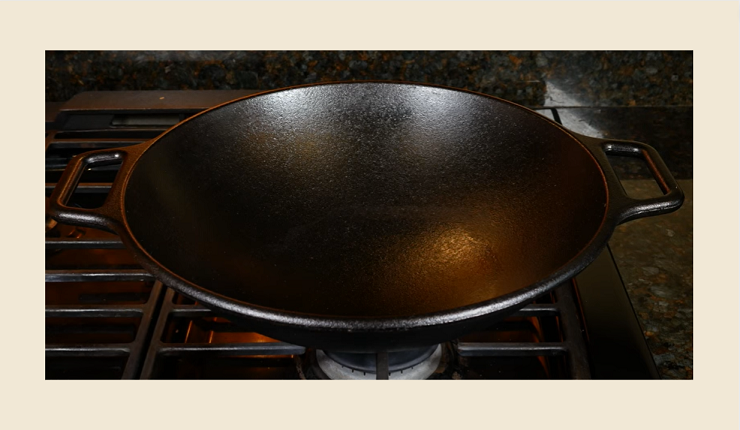 Another generously sized model, the Lodge Pro-Logic has plenty of fine qualities. Its impressive appearance is chief among them. When people see this pan on your stovetop, they'll know you're a seasoned chef.
Be forewarned that this item is made of non-enameled cast iron, so if you're hoping to preserve the integrity of your glass top stove, it might not be a good choice. That said, the product has enough positive attributes to make it worth a second look.
Unlike most of our other choices, this unit comes with loop handles on either side. That might seem strange, but it's actually convenient in this case. The heavy cast iron construction means the pan would be awkward to manage otherwise.
Features:
Sturdy cast iron build
Pair of loop handles
Flat base
Oven safe
Suitable for induction cooktops
Pros:
The pre-seasoned surface means you can start cooking right away. You may have to return to this step after a while, but a brand new item will have a non-stick surface.
Cast iron offers superior heat retention and is extra durable to boot. It can last you forever if you take good care of it.
This is an exceedingly versatile model that can be used for a variety of cooking applications. With this one appliance, you can cook almost anything for your whole family.
It's very easy to clean after each use. You can ask any of your family member to help with cleaning, and they will be happy to help you next time again.
Even heat distribution allows each of your ingredients to brown properly and come out nicely looking when you're finished.
Cons:
The pan is very heavy, owing to its cast iron construction. Keep that in mind before buying.
It can be difficult to get the unit to lie flat on the cooktop, which is awkward.
Best For:

Die-hard cast iron aficionados who don't mind handling a heavy pan.
Having trouble visualizing what a pre-seasoned cast iron wok might look like? Take a look at this video:
Did you notice how thick the material is? That might make it more difficult to move the pan around, but it also means that it should last for a lifetime.
Buying Options
7. Saflon Titanium Nonstick 11 Inch Wok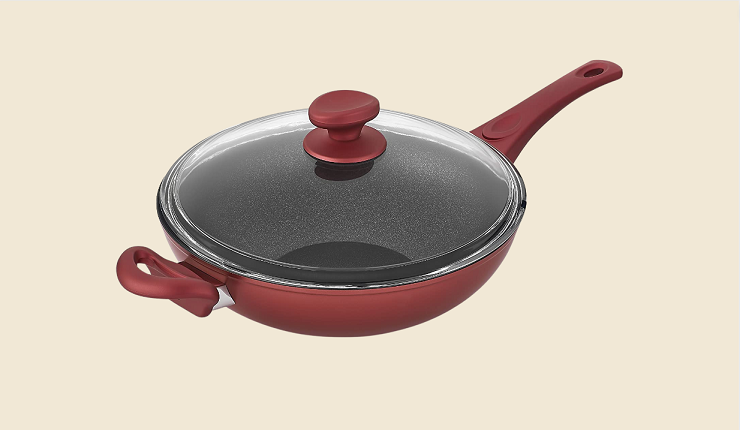 Titanium is an excellent material for this type of cookware. It's strong, durable, and naturally resistant to corrosion and rust. When you invest in this model, you can rest assured that you're getting your money's worth.
Features:
Made of premium titanium
Nonstick properties
Eco-friendly model
Dishwasher safe
Offers a stay-cool handle
Pros:
The material is highly resistant to scratching, so you can safely use metal utensils from time to time. But I wouldn't recommend going with metal utensils on a regular basis anyway.
It comes equipped with its own lid for steaming which allow the deliciousness you cook to get done much faster.
The heat distribution is superior to much of the competition, so you can expect your dishes to come out cooked-through with a nicely brown color.
You don't need to use any oil with this unit, which allows you to cook healthier food with less fat content.
When you're tired from your dinner preparation and want to leave the cleaning routine for tomorrow, just think of how fast and easy you can clean this pan — 2 minutes is more than enough.
Cons:
The loose handles make it easy to burn yourself during use if you're not careful.
The red part of the unit is prone to stains. I personally don't care much about the appearance if the thing gets its job done, but some people don't like when their appliances don't look perfect every time.
Best For:

Singles or couples who can get by with a smaller model. Also a good choice if you prefer a titanium construction.
Buying Options
Learn all about how to clean a rusty wok in this article.

8. Rachael Ray Cucina Hard Anodized Nonstick 11-inch Stir Fry Pan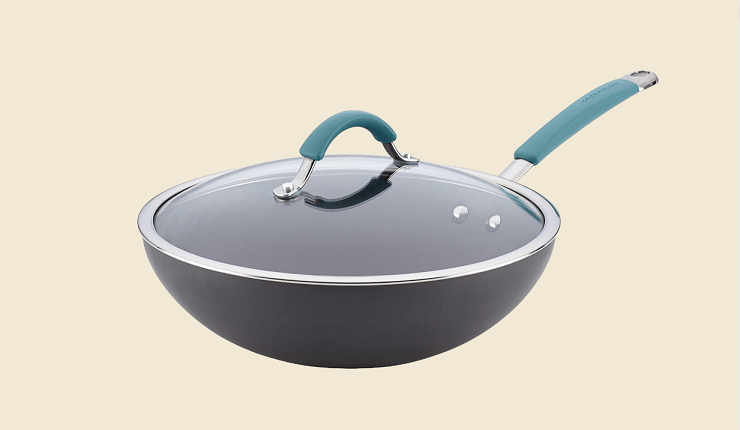 This offering from the Rachael Ray collection is another small and lightweight option for those of you who typically only cook for a couple of people. Measuring 11 inches in diameter, it can be used on your stove's smaller burners. It's also very versatile, as it can be used on any type of cooktop except for induction.
In addition to being light and maneuverable, this nonstick appliance is both easy to clean by hand and suitable for the dishwasher. If this is your first time experimenting with this type of cookware, this could be just the ticket.
Features:
Strong aluminum construction
Dishwasher safe
Nonstick surface
Can be used on any type of stove top except for induction
Pros:
At just 11 inches, this pan is very lightweight and manageable. It's an ideal choice if you live alone or cook just for yourself.
Because the unit comes with its own lid, you can cook almost anything much faster and be anywhere on time.
The material offers superb heat distribution, so you always have amazing results whether you're making a steak or deep-fried goodies.
It's simple to use, even if you're a first-timer. Just follow the recipe and the pan will do the rest.
This model is very easy to clean. Even if you don't own a dishwasher, this one requires very little time to clean it and will never become a trouble for you.
Cons:
The nonstick coating fades surprisingly quickly. Be careful when cleaning and make sure to never use metal utensils.
This model is not suitable for induction cooktops.
Best For:

First-timers who want a relatively small appliance that they can handle and store with ease.
Buying Options
9. TeChef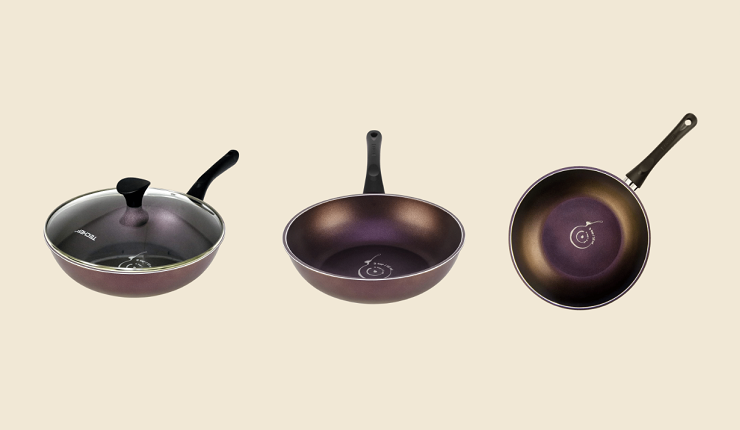 Are you looking for a unit that's not only versatile and long-lasting, but will be compatible with your induction cooktop? If so, then this offering from TeChef may be the one for you.
With its durable aluminum construction, the TeChef Art Pan Collection Wok is built to last through many years of vigorous use. It's also dishwasher safe, so you won't need to devote much time to cleanup.
Above all things, this unit is compatible with induction, electric, and gas stove tops. That means you don't have to worry if you decide to move house or remodel your kitchen — the pan will handle the transition with ease.
Features:
Constructed of the finest aluminum
Compatible with gas, electric and induction stove tops
Nonstick qualities
Dishwasher safe
Pros:
The surface heats up evenly, so your stir-fries will look and taste especially impressive.
The nonstick surface prevents burnt food which is why it's fast and simple to clean.
Since it's compatible with so many various stovetops, this is an exceptionally versatile unit that can even make a wonderful gift.
It has its own tightly fitting lid, which is what you want to cook anything much faster and prevent grease splashes.
If healty cooking is your thing, this model is a really good choice. The surface requires less oil than many similar woks so you can cut off those nasty calories.
Cons:
The nonstick coating tends to fade away rapidly.
Though it heats evenly, the surface can be slow to heat up at first.
Best For:

Buyers who move house frequently, or chefs who like to take their skills on the road. The fact that it's compatible with so many different stove tops means it can be used just about anywhere.
This helpful video should tell you everything you need to know about the TeChef pan:
Buying Options
10. MICHELANGELO 5 Quart Nonstick Wok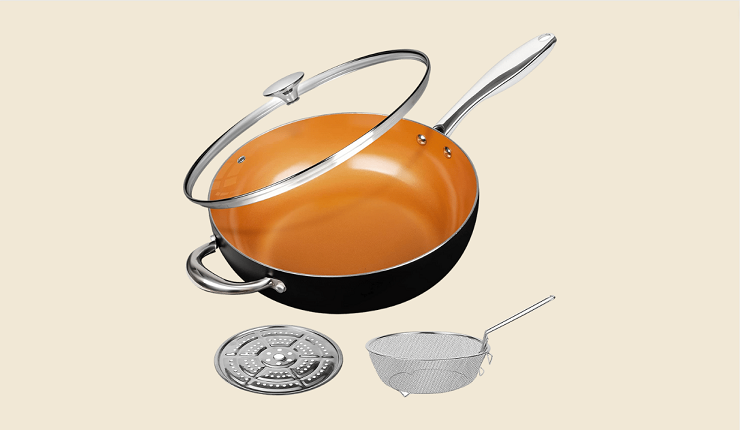 The MICHELANGELO lives up to its artistic moniker with its compatibility and user-friendly qualities. Like the previous offering, it's suitable for all stovetops, including induction.
The manufacturers have chosen sturdy aluminum for the construction of the main vessel, opting for a plastic handle. All the materials used are non-toxic and dishwasher safe, and the unit requires very little oil.
Though the unit distributes heat evenly, we aren't fans of the plastic handle, which seems as though it could easily melt if the pan were to get hot enough. This feature also means that it would be unwise to transfer the pan to the oven.
Features:
Made from premium aluminum
Nonstick coating
Non-toxic materials
Dishwasher safe
Can be used on any type of stove tops
Pros:
It comes equipped with its own lid for steaming and steam-sauteing to accomplish plenty of cooking techniques and get your culinary masterpieces done in a shorter period of time.
The material heats quickly, with superior heat distribution. With that said, you can starting using the pan as soon as you put in on a stove.
This is another versatile unit that you're sure to use on several nights of the week. Because it's suitable for any type of stove tops, it will stay by your side even if you switch your stove.
The surface doesn't require much oil to turn out great-tasting dishes. You can even try to skip oil if you're out of it – just keep an eye on your meal.
Cons:
The nonstick coating quality might be problematic to deal with — we've found that it fades quickly.
The plastic handle is prone to melting under high heat.
Best For:

Chefs who rarely transfer their cookware to the oven during use. It works great on the stove top, but the plastic handle is a real liability.
This pan is large enough to accommodate soups as well as stir-fries. You can find out how to boost the flavor of your soup by clicking here.
Buying Options
11. Craft Wok Traditional Hand Hammered Carbon Steel Pow Pan with Wooden and Steel Helper Handle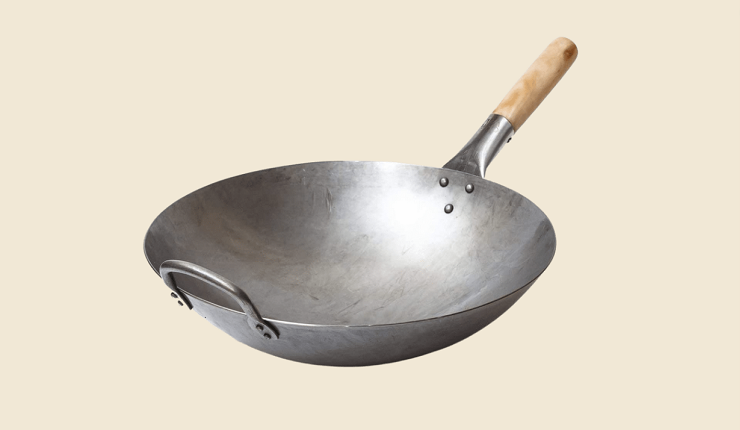 This offering has all the trappings of a traditional wok, but offers several extras.
The "helper handle" is a loop handle affixed to the side of the appliance, directly opposite the main handle. Although plenty of the units on this list feature something similar, this one is especially well-designed, remaining cool to the touch even as the pan gets scorching hot. It also comes with its own spatula.
Features:
Crafted from top-of-the-line stainless steel, aluminum and cast iron
Scratch-resistant
Dishwasher safe
Can be transferred to the oven
Nonstick qualities
Pros:
It comes with its own spatula, in addition to a lid. If you don't have any of these at home, you're lucky to buy a multifunctional appliance like this and save additional money.
It's compatible with all stovetops, so you can take it anywhere with you, which makes this unit a great investment for many years to come.
You don't have to stand with a piece of meat in your hands and wait until the pan if ready. The material heats up quickly and evenly, so you can get right down to business.
Cons:
It's on the heavy side, making it awkward to handle.
Despite the nonstick coating, some ingredients are prone to sticking during cooking.
Best For:

Home chefs who prefer a traditional-style wok that comes with its own utensil for stirring and flipping.
Let's take a look at the appliance in action:
This video should help you determine whether the item be a good fit for your kitchen.
Burned on food can be a real pain, especially in a wok. Here, you'll find more tips on how to deal with it.
Buying Options
Supplemental Items
When using woks, there are several other items that might come in handy. Here are a few suggestions.
Need something to set the hot cookware on once it comes off the burner? These mats, made of 100 percent silicone, are heat-resistant up to 482 degrees and will prevent your countertop from becoming scorched.
Should you find that ingredients have become caked on to the pan, you can find useful cleanup tips here.
If you're worried about storing leftovers, this organizer has you covered. With separate slots for snack, sandwich, quart and gallon zip-top bags, it's both convenient and space-saving.
This bamboo dispenser will hold your plastic wrap, wax paper and foil while you work. It even comes equipped with cutters so you can easily access the wrappings using only one hand.
This bamboo storage bag organizer can be stored neatly in a drawer. Instead of scrambling around for the bag you want, you can locate the correct size at a single glance.
Useful Resources
In Conclusion
Once you understand that the best wok for glass top stove is a flat-bottomed model, locating the right one should be easy.
You're looking for superior construction, nonstick properties, and a pan that cleans up with very little effort. Fortunately, there are many such items on the market — it all comes down to your preference.
Latest posts by Cindy Becker
(see all)