You may have read my posts about putting mushrooms in a dehydrator. However, my dehydrator has decided to knock itself off the kitchen counter, or maybe I accidentally knocked it off the counter while reorganizing.
While I have a friend who can repair my dehydrator, I am left without a way to dry my mushrooms. Luckily, my friend informed me that I can use my air fryer to dry my food until my dehydrator is fixed.
I never thought of using an air fryer to dehydrate my food, so I did a little research to see if this is an effective method. After visiting several forums, websites and blogs, I have discovered that drying your food in an air fryer is not a bad idea.
I thought about using the oven to dehydrate my mushrooms, but I have also read that it takes several hours to dry them in the oven. Using the air fryer seems to be the better option for drying this tasty food.
An hour and a half into using the oven to dehydrate mushrooms for the first time, I can say this is much more stressful.

— Ben Kendrick 🍄 (@FungiwithBengi) September 12, 2019

Of course, I had to take the information I found and put together a guide. It would be like a day without air if I did not put together a guide for my readers.
As you read through my guide, you can learn:
How to dehydrate mushrooms in air fryer
How to prepare them before the dehydration process
How to tell if they are done in the air fryer
Post-dehydration tips, such as how to use and store them
Tips and recipes through videos
I found an interesting fact on GroCycle:
According to a recent evidence-based mushroom classification system, there are 2189 edible mushrooms. Of these, 2006 are safe to eat, and 183 need pre-treatment to make them safe to eat.
You certainly have your pick of the bunch when it comes to edible mushrooms. If you want to learn more about this delicious food and how to prepare it, keep reading my guide.
Table of Contents
Do You Need a Dehydrator Alternative? Check Out These Tips on How to Dehydrate Mushrooms in Air Fryer
If you need an alternative for a dehydrator, you have come to the right place because I want to share several tips on how to dehydrate mushrooms in air fryer.
I also want to share preparation, usage and storage tips to help you make the most of your meals.

Traditional Ways to Dehydrate Mushrooms
There are four traditional ways to dehydrate your food. Those methods are air drying, wind drying, sun drying and smoking, and I want to share some information on each method.

Air Drying
This method is done indoors in a well-ventilated area, such as a screened-in porch or an attic. The food should not be exposed to the wind or sunlight.
It can take several days or weeks to air dry your food, and you want to place your food in a secure bag to keep pests, dust and foreign objects away from it.

Wind Drying
For this method, the food is dried outside by hanging it on a string or hook. It should also be done in a shaded area, but you do need to find ways to protect your food from pests and debris.
It can take several days or weeks to dry your food because this is a slow, natural method.

Sun Drying
If you want to sun dry your food, it should be placed in an outdoor area that is safe from pests and debris.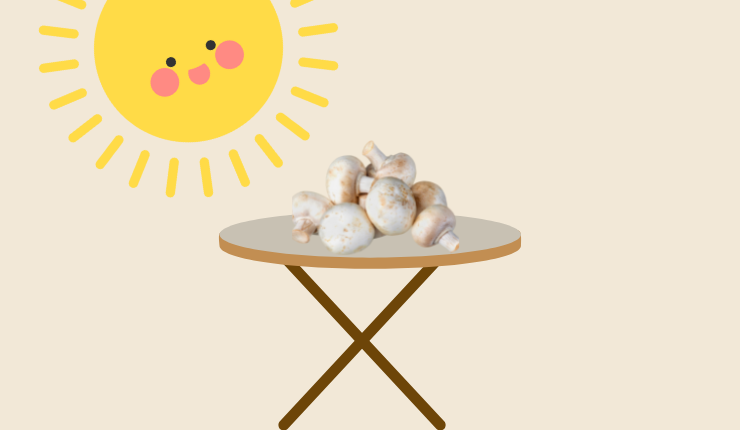 It only takes several days to sun dry your food, but you need to turn the food often to ensure all sides dry evenly.

Smoking
Smoking is a great method because it protects your food while killing bacteria. It also locks in the delicious flavor, which is why grilled or smoked food is so popular.
The best part is, you do not have to wait days or weeks to enjoy this mouthwatering ingredient.
Now, you can use various appliances to dry your food for meals or storage.

How to Prepare These Contents for Dehydrating in an Air Fryer
It is important to prepare your mushrooms before placing them in the air fryer. You want to ensure your food is both tasty and healthy after it has been dried.
The first thing you need to do is ensure this food has not gone bad. For example, mushrooms that smell like fish should be discarded immediately.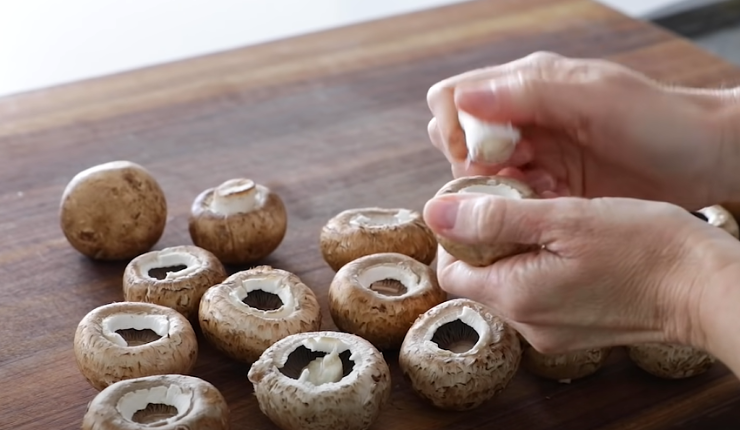 If they have not expired, you can continue with the following steps.
Start by washing them in cold water, and be sure to rub away the dirt that may have gotten on your food. Give them time to thoroughly drain.
Remove the stems from the mushrooms. The stems can be dried, used as compost or discarded. You can also boil the stems as an ingredient for vegetable broth.
Slice your whole mushrooms into 1/4-inch pieces.
You are ready to start dehydrating this food in the air fryer. If you want to find more cooking tips, you can click here to learn how to keep your bacon from curling.

Should You Season Them Before Drying?
When learning how to dehydrate mushrooms in air fryer, you may be wondering if you need to season them during the preparation.
🍄 since im over caffeinated I thought I'd dehydrate some mushrooms in the air fryer 🍄 pic.twitter.com/r4LuFLXff3

— By The Gardens Edge Tarot (@Hannah_Stone902) August 25, 2022

Seasoning this food is optional because the flavor is already locked in during the dehydration process. I would say this step is a matter of personal preference.

Is an Air Fryer as Good for Dehydrating Mushrooms as a Dehydrator, and What Is the Difference?
While an air fryer and a dehydrator can both be used for drying your food, the results for this dried ingredient are not the same.
To quote Kitchen Espial,
If you're looking for an easy-to-prepare mushroom with a long shelf life, then dehydrated mushrooms are a good option. However, if you're looking for a crispy, delicious mushroom that is quick and easy to cook, then air-fried mushrooms are the way to go.
Therefore, both appliances are good options for dehydrating your food. The appliance you choose depends on your needs.
If you need a versatile appliance, an air fryer is a great option. A dehydrator is best if you only need an appliance for drying your food.
Fabulessly Frugal does more than just show you how to dehydrate food in an air fryer in this video. You can also view a side-by-side comparison of an air fryer and a dehydrator from the brand Cosori.
I feel you should learn everything you can about your kitchen appliances. You can find out how hot a stove top gets in this article.

How to Dehydrate Mushrooms in Air Fryer
Now, it is time to share several easy steps on how to dehydrate mushrooms in air fryer. These steps are going to include your preparations.
You need to ensure they are fresh before continuing with the dehydration process.
Wash them in cold water and let them drain.
Remove the stems, and slice the mushrooms into thin 1/4-inch slices.
Set your air fryer to its lowest temperature, or you can see if your air fryer has a dehydration setting.
Place the contents in a single layer to ensure they dry together and evenly.
Set the timer for six to eight hours to ensure your food is crispy.
If you are using the same time and temperature as you would on your dehydrator, be sure to check them every hour. You need to check to see if they are crispy regardless.
If you are in the market for a new dehydrator, start shopping by checking out the best dehydrators for mushrooms in 2022.

How Much Time Will It Take to Dry Them in an Air Fryer?
It can take six to eight hours for them to dry in an air fryer. The thickness of your slices may also make a difference in the drying time.
Of course, you need to consider the climate of your home as well. To quote Flour On My Face,
The environment of your home will also make a difference. If you live in an area with high humidity, it may take longer to completely dry the mushrooms.
What Type of Mushrooms Can Be Dehydrated?
You can dehydrate any edible mushroom, including fresh white, baby Bella, portobello, chanterelle and oyster.
If you want a visual on how to dehydrate mushrooms, this is the video for you. Days Well Spent shows viewers how to dehydrate this food using the Nesco FD 2000 Digital Dehydrator.
A plate of stuffed mushrooms is sure to hit the spot, and you can find several ways to reheat this tasty dish.

How to Tell if They Are Done
You can tell if they are done by bending them. If they break instead of bend, they are done.
A crispy texture is also a sign that they are done. If the slices bend or are not crispy, put them back into the air fryer for a little while longer.

How to Store Dried Mushrooms
The first thing you should do is ensure all the pieces are completely dry. A slice that still contains moisture can lead to mold and ruin the entire container.
You can double-check by placing them in a jar with a tight-fitting lid. Let the jar sit for seven to 10 days, and shake it to check for moisture inside the container.
Once you know the contents are safe, you want to place the jar out of direct light. A dark cabinet is a safe spot for your dried contents because it is a cool, dry place.

How Long Will They Last Once Dry?
It is no secret that dehydrated mushrooms last for a while, which is why they are so popular. However, you may be wondering how long this dried food lasts.
Realised last night that I can dehydrate our field mushrooms to make them last longer. Gonna go hunting this morning and get onto that.

— Kat 👩‍🌾 (@katjnz) March 21, 2020

If you store your dried them properly, they can last for up to four to 12 months. They may even still be good well after the 12-month mark, but you need to ensure they are properly dried and stored.
There is nothing like using your mushrooms as a pizza topping. In this article, I explore how long a frozen pizza can sit out before it goes bad.

How to Use Dried Mushrooms
The possibilities are endless with this dried ingredient.
You can use this dried, tasty food for stews, soups, mushroom gravy or stir-fried meals. It can also be used as an ingredient for your vegetable broth, or you can use it to give your risotto or pasta sauce a little kick.
In this video, Melanie Cooks shows viewers how to cook this food in an air fryer. She also shares a delicious recipe to try in your kitchen.
Want to make meal planning a breeze? Start by checking out the best sides to serve with stuffed mushrooms in 2022.

Pros and Cons of Dried Mushrooms
There are pros and cons to every dish, and learning the pros and cons can help you plan a meal that works for everyone.
To help you decide how you want to use your food, here are several pros and cons of dried mushrooms.
Pros:
With proper storage, this food can last up to 12 months or longer. This is perfect for using them for meal planning and dinner parties.
This food can be used as an ingredient in various meals, from vegetable broth to pasta sauce. The dry texture also makes it easier to crush it into a powder to add to certain dishes.
All mushrooms contain a range of nutrients, such as vitamin D2, B vitamins, enzymes, protein and antioxidants. These nutrients are preserved, creating an ingredient or a snack with several health benefits.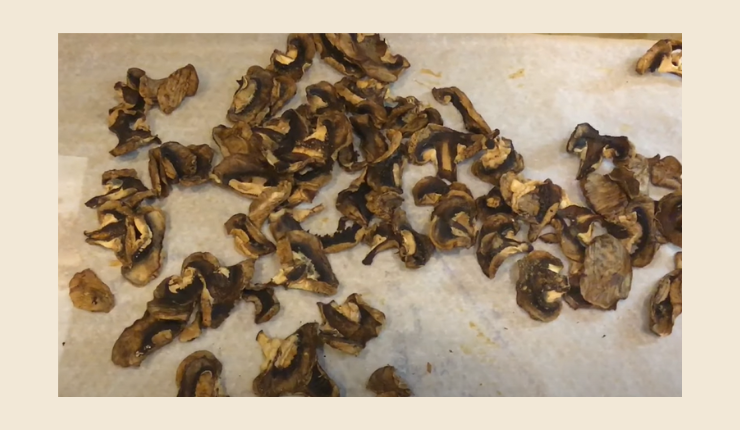 Cons:
One mushroom that is not thoroughly dry can ruin the entire container. The entire container would need to be discarded immediately, which is a waste of time and resources.
It can take several hours to dry them in an air fryer or a dehydrator, which is not ideal if you are making a quick meal for dinner.
The air fryer or dehydrator needed for drying this food can be expensive, and the traditional methods may take too long for your needs.
Luckily, the pros of drying this food in an air fryer or dehydrator outweigh the cons, and I believe the pros are worth the great taste and health benefits.

Useful Resources
When You Need a Dehydrator Alternative, Look into an Air Fryer
When learning how to dehydrate mushrooms in air fryer, you may notice the steps are not much different from a dehydrator. The best part is, an air fryer gives you several ways to cook your food.
If you need an alternative for a dehydrator, consider drying your food in an air fryer. You can still enjoy the great taste of this ingredient.
Latest posts by Cindy Becker
(see all)