Stuffed mushrooms make excellent appetizers — they're usually on offer at my parties. But they can anchor a meal just as easily, as long as you know what to serve with them.
Since mushrooms pair well with a variety of flavors, it can be hard to narrow down your options. I've found that it helps to base the meal around whatever else you're using in the stuffed mushrooms.
For example, if you're making stuffed mushrooms with prosciutto and mozzarella, opt for sides that have an Italian flair. Or, for seafood stuffed mushrooms, select a veggie side dish that will offset the richness of the filling.
Speaking of fillings, you have numerous options there as well. Mushrooms can be stuffed with anything — crabmeat, minced clams, spinach, cheese, even other mushrooms that have been sauteed and mixed with bread crumbs. Fillings made from sausage and other ground meats are exceedingly popular as well.
Winners get stuffed mushrooms! pic.twitter.com/rXXr5GdIwM

— (@AphexCody) September 19, 2022

When you've finished reading, you'll know:
Why you should serve side dishes with stuffed mushrooms
Which stuffing ingredients are most popular — and why
Whether mushrooms can replace meat in dishes
How to make stuffed mushrooms the star of the show
What to serve with stuffed mushrooms
Although I came to the table (figuratively speaking) with plenty of ideas on what to serve with stuffed mushrooms, I knew I couldn't put together this guide without help. So I did extensive online research to provide you, as the reader, with the most comprehensive response I could.
Let's get started!
Table of Contents
Why Serve Side Dishes with Stuffed Mushrooms?
As we've established, stuffed mushrooms can stand on their own as a delicious appetizer. So why bother to create side dishes to go with them?
The answer is simple: stuffed mushrooms are popular for a reason. They're delicious, for one thing, but they're also just exotic enough to be interesting without scaring off less adventurous diners. So why not make them the centerpiece of a more creative meal?
Serving side dishes with your stuffed mushrooms will also allow you to flex your other culinary muscles. Eve if you're not serving a bunch of guests, your taste buds are sure to applaud your efforts!
Make sure your mushrooms are fresh before you begin. You'll find tips on how to test them for freshness here.
Which Ingredients Work Best for Stuffed Mushrooms?
On their own, mushrooms have an earthy flavor that serves as the ideal palette for bolder ingredients. Though they're tender to the bite, they're sturdy enough to stand up to hearty fillings.
Here's a list of commonly used ingredients for stuffed mushrooms:
Bread crumbs (homemade ones work best)
Sausage
Bacon
Crabmeat or lobster
Minced clams
Spinach
Roasted red pepper
Onion
Toasted nuts, such as pecans or pine nuts
Cream cheese
Parmesan cheese
Mozzarella cheese
Garlic
Pesto
Fresh herbs, such as parsley, rosemary and thyme
Though this list is already extensive, it can always be improved upon. You can use couscous spiked with cinnamon and cumin to make Moroccan-themed stuffed mushrooms, or fill them with a medley of roasted vegetables and goat cheese for a tasty vegetarian meal. The sky is the limit.

Can Mushrooms Be Used as a Meat Substitute?
Absolutely. The firm, almost flesh-like texture of mushrooms makes them a fine substitute for meat-based proteins like chicken and steak.
The folks over at EatPallet have this to say:
Mushrooms are high in nutrients like vitamin D and minerals like potassium.
Be aware, though, that the protein content of mushrooms is relatively low. 100 grams of cooked white mushrooms contains just over 3 grams of protein. By contrast, the same amount of cooked chicken offers up 27 grams — about 9 times as much.
From a nutritional standpoint, then, it makes sense to amp up the protein supply by serving stuffed mushrooms alongside something else. If you want to keep the meal vegetarian, use beans, tofu, tempeh, or lentils. If that's not a concern, feel free to select one of the meat-based side dishes we've included below.
When you're not in the mood for stuffed mushrooms, try dehydrating the ones you have on hand. You can learn more about this process here.
More creative tips can be found in this article.
What to Serve with Stuffed Mushrooms
Now that we've gone over the basics, let's get into the specifics. Here are 26 of my favorite ideas on what to serve with stuffed mushrooms.

Yummy Veggie-Based Sides
Make your meal more nutritious by serving these fresh veggie-based side dishes alongside the stuffed mushrooms.

Roasted Carrots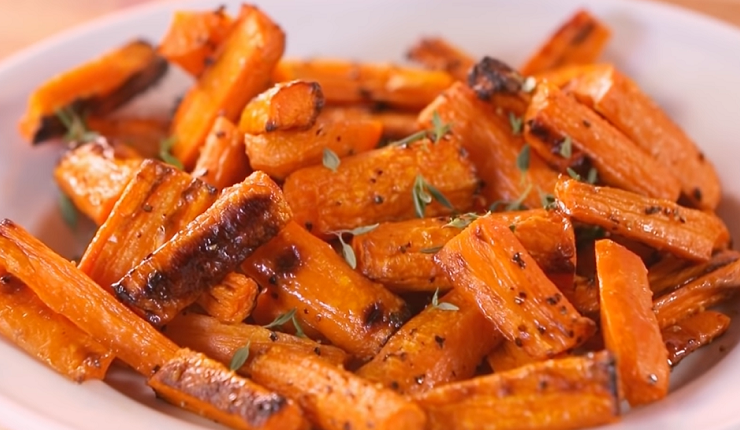 This side dish goes especially well with stuffed mushrooms that have incorporated pecans or other toasted nuts into their filling. The warm spices provide a nice contrast to the natural sweetness of the carrots.
Cutting carrots into circles is a popular approach, but they're more flavorful if you cut them into sticks or large chunks instead. We recommend taking this approach with this recipe, as the carrots might overcook if you cut them too small.
Toss sliced carrots with olive oil, kosher salt, cinnamon, cumin, and Chinese five-spice powder. Roast in a 400-degree oven for about 20 minutes, or until carrots are crisp-tender. These are best served when still warm, but they'll still taste great when they've cooled to room temperature.

Roasted Bell Pepper Salad with Parmesan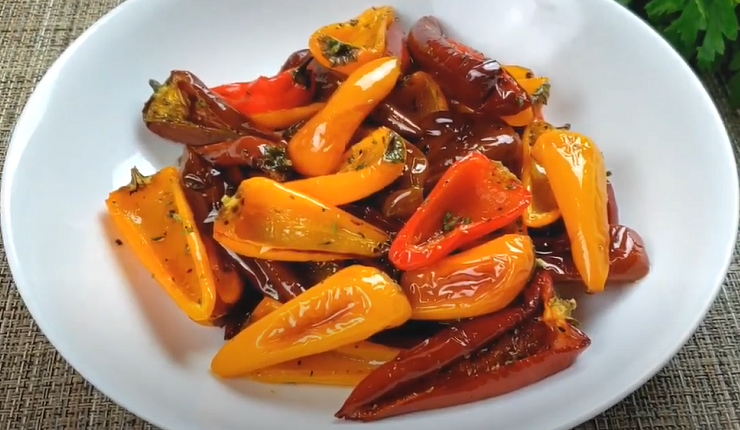 This recipe uses watercress as a base for the sweet peppers, piquant capers, and nutty Parmesan. It goes well with various recipes for stuffed mushrooms. If you can't find watercress, feel free to swap in baby arugula instead.
Set your oven to 375 degrees. Split a few red peppers in half lengthwise, then sprinkle them with olive oil and kosher salt. Roast skin-side up until they're tender, about 45 minutes.
When the peppers are tender, put them in a heatproof bowl and cover the bowl with plastic wrap. Wait 20 minutes, then remove the skins and seeds from the peppers. The skin should peel off easily.
Make a dressing of balsamic vinegar, olive oil, and fresh oregano. Cut the bell peppers into strips and toss them with the dressing. Serve over the watercress, topped with capers and shaved Parmesan, plus additional dressing on the side.

Simple Veggie Salad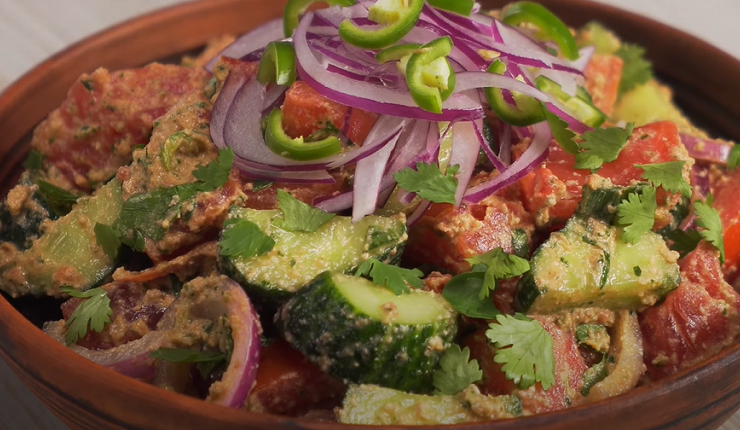 Since stuffed mushrooms can be very rich — it's a good idea to serve them with something light and refreshing. This simple salad can be customized to suit your tastes — just use whatever raw vegetables you prefer.
Start by making a simple dressing of Dijon mustard, fresh garlic, and red wine vinegar. Add in a bit of sugar, salt, and black pepper for seasoning.
Once you've made the dressing, prepare the vegetables. Use a base of mixed greens, arugula, spinach, or romaine, then top it with any of the following:
Sliced zucchini or yellow summer squash
Sugar snap peas
Edamame
Strips of red, yellow, or orange bell pepper
Sliced tomatoes
Drizzle the salad with the prepared dressing and serve immediately alongside stuffed mushrooms. This salad is especially good with crab stuffed mushrooms.
Cauliflower Puree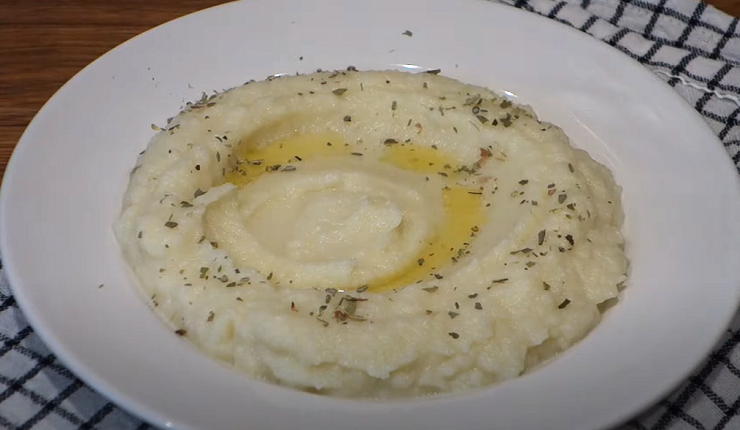 Cauliflower has a subtly nutty flavor that pairs well with many popular mushroom fillings. This recipe makes a fine — and nutritious — substitute for mashed potatoes, and offers a nice textural contrast to the stuffed mushrooms.
After breaking a head of cauliflower into florets, steam the pieces while you assemble the rest of the ingredients. Warming the liquid ingredients will help keep the cauliflower nice and hot until you serve it.
When the cauliflower is very tender, use an immersion blender to combine it with buttermilk, crushed garlic, and plenty of butter. Season with salt and pepper to taste and serve hot.

Broccoli Soup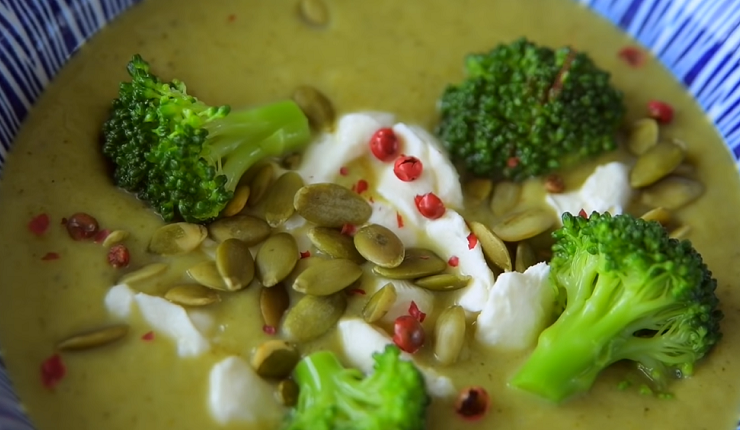 For a special treat, serve this simple broccoli soup topped with a batch of homemade croutons. You can use the rest of the bread to make the crumbs you need for the stuffed mushrooms.
Melt butter in a Dutch oven or stock pot over medium-high heat, then add broccoli florets, diced onions and carrots, salt and pepper. Saute until the onion is nearly translucent.
Add a tablespoon or two of flour for a thickener, then cook for another minute. Then blend in chicken stock (or veggie stock or water, for a vegetarian option) and bring the mixture to a boil. Simmer until the broccoli is very tender, about 15 minutes.
If you need help with volume conversions, you can find useful tips in this article.

Spinach Frittata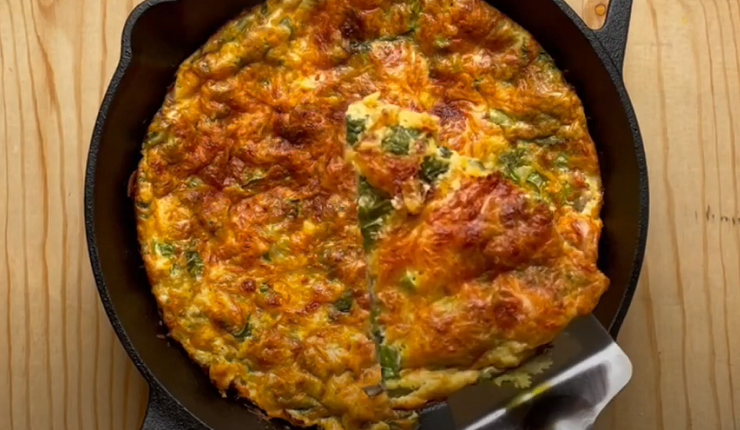 A frittata is a wonderful egg dish that's sort of a cross between an omelet and a pie. This one makes use of fresh vegetables to complement your stuffed mushrooms.
You'll need a nonstick frying pan to make this frittata. The pan should also be oven safe, as it's best to finish the dish by setting it under the broiler.
Make a mixture of beaten egg, milk, salt, and pepper, then fold in grated Swiss cheese and halved cherry tomatoes. Melt butter in a nonstick skillet and saute onions until they're softened.
Add a handful of spinach to the pan and continue to cook until the leaves are wilted, then pour the egg mixture into the pan. Let cook for 3 minutes or until the eggs are almost set, then transfer the pan to the broiler for about 5 minutes.
After removing the frittata from the oven, transfer it to a serving plate. Serve warm with stuffed mushrooms on the side.

Green Bean and Eggplant Stir-Fry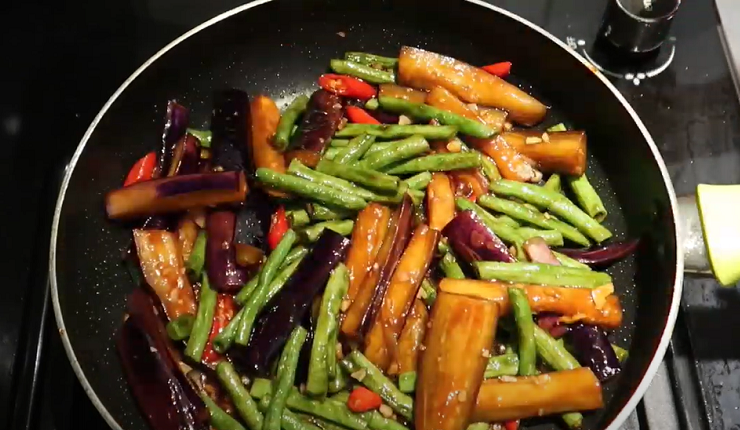 Eggplant and green beans are a classic pairing. You'll often find this combo on Chinese restaurant menus, but it's an easy dish to recreate at home.
Don't forget to salt your eggplant strips and let them drain for about 15 minutes before using them in a recipe. This expels a bunch of moisture so that the eggplant will have a rich, creamy texture once it's cooked. You can use a toaster timer to help you keep track of how long the strips have been draining; click here to learn more.
Using a wok, fry eggplant strips in peanut oil until they're tender, then set aside. Add more oil to the wok and saute the green beans for about 5 minutes. Set these aside with the eggplant.
You'll want to save the aromatics for last so that they don't burn. Saute garlic, ginger, and minced chili pepper (or red pepper flake) for about 1 minute, then return the veggies to the wok. Toss with soy sauce or tamari and oyster sauce until the vegetables are well coated, then serve with stuffed mushrooms.

Memorable Meat Side Dishes
Want to bring something heartier to the table? These meat side dishes are designed to bring out the best in your stuffed mushrooms, no matter what you've chosen to fill them with.
Just listen to what Living Scented has to say on the subject:
Mushrooms go great with just about any protein, whether it's chicken, steak, fish, or tofu. If you're looking for something lighter, they also pair well with salads or grain dishes.
Chicken Caprese
Caprese is a classic Italian preparation, referring to the combination of basil, tomato, and mozzarella. When you add these ingredients to chicken, you get a tasty and satisfying main course.
Make sure to use fresh basil — the dried stuff isn't an adequate substitute in this case. Ditto for fresh mozzarella; you don't want to fall back on the shredded version that you would use to top a pizza. Finally, try to use the most vibrantly ripe tomatoes you can find.
After sauteing chicken breasts in a bit of olive oil, top them with strips of fresh basil and slices of fresh tomato. Add thinly sliced fresh mozzarella and run the chicken briefly under the broiler until the cheese begins to bubble. Serve drizzled with olive oil and balsamic reduction.
This goes especially well with ricotta stuffed mushrooms.
Prime Rib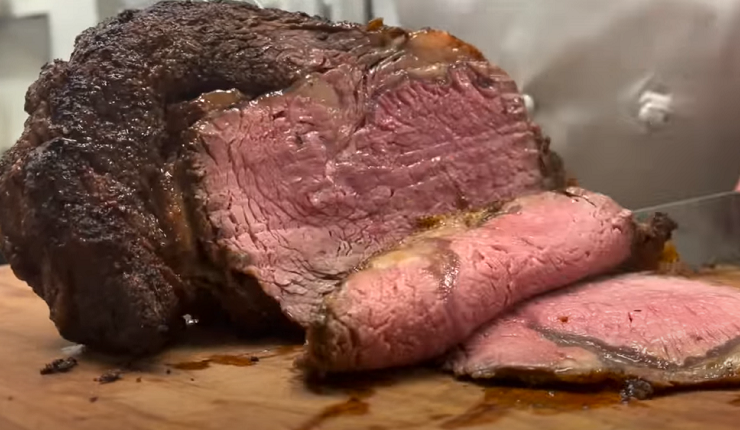 Who doesn't love a good prime rib roast? When served alongside stuffed mushrooms, you'll have a feast that's fit for a king. In fact, grilled ribeye is a fabulous option as well.
Gotta cowboy ribeye and two little ribeyes and stuffed mushrooms going on the grill. pic.twitter.com/kDFOAfxiaz

— Jon Clark (@JClark969) August 6, 2022

Let the meat come to room temperature for 30 to 45 minutes before you start to cook. The meat will cook more evenly this way. Use a simple seasoning — garlic powder mixed with kosher salt and freshly ground black pepper works well.
We prefer to sear prime rib in a hot oven — about 475-500 degrees Fahrenheit — for 30 minutes, then reduce the heat to 300 degrees for the remainder of the cook. This gives the exterior that nice brown crust you're looking for, sealing in the juices.
After reducing the heat, cook prime rib for 18 minutes per pound for rare meat and 25 minutes per pound for medium. Don't cook prime rib until it's well done — you'll be ruining a lovely (and expensive) cut of meat.

Beef Stew
If you aren't sure what to serve with stuffed mushrooms, try keeping it simple with a nice hearty stew.
When beef stew is on the menu, make sure to plan ahead. This is one dish that can't be rushed. The long cooking time is required to make the beef nice and tender.
After seasoning the cubed beef with salt and pepper, dredge it in flour. Sear the cubes in a bit of oil until the outsides are nice and brown. This will give the stew a thicker texture while improving the flavor.
Saute onions, carrots, and celery in the pan drippings, then return the meat to the pot. Simmer beef in just enough stock to cover the meat for about 2-3 hours, or until tender. Add chunks of potato, carrot, and onion, then cook for another hour. Serve sprinkled with minced parsley.

Pork Kabobs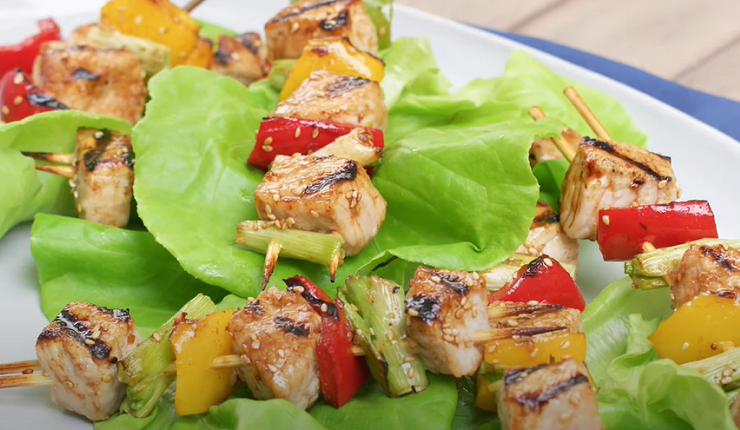 Kabobs are a great option when the weather is warm. As a bonus, you won't have to share oven space, which will allow you to make more stuffed mushrooms at a time.
Marinate cubes of pork tenderloin in a mixture of soy sauce, pineapple juice, sherry, brown sugar, garlic, and ginger. Don't leave it in the marinade for longer than 8 hours, or you'll be rewarded with mushy pork.
Thread the cubed pork onto skewers, alternating with chunks of colorful bell pepper and red onion. You can also use zucchini or summer squash. Stay away from delicate vegetables like tomatoes, though, as they'll overcook before the pork is done.
Grill skewers over medium-high heat for 10 to 15 minutes or until the pork has cooked to 145 degrees Fahrenheit and the vegetables are crisp-tender. Let rest for 5 minutes before serving with stuffed mushrooms.

Chicken With Mixed Vegetables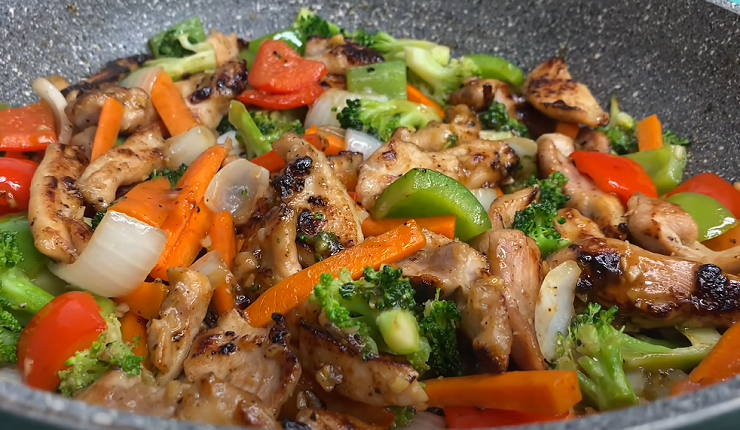 Are you pressed for time after spending all afternoon making your stuffed mushrooms? This preparation makes use of frozen mixed vegetables, so it comes together quickly.
Start with a pound or so of boneless and skinless chicken breast and cut the meat into 1-inch cubes. Season with salt, pepper, and garlic powder, then saute in a neutral oil (such as canola, avocado, or peanut) until cooked through, about 5 to 7 minutes.
Add a bag of mixed frozen vegetables and continue to cook for 5 minutes, or until the veggies have heated through. Toss with soy sauce and hoisin sauce for an additional minute or two, then serve with stuffed mushrooms. It's also excellent when served over rice.

Creamy Cheesy Chicken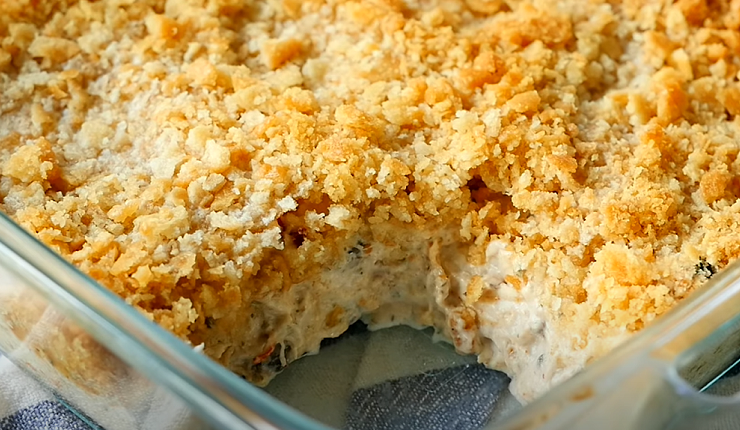 Chicken's mild flavor allows this rich, cheesy sauce to shine, and kids are sure to love it as much as the adults will. It's best to save this preparation for times when lighter versions of stuffed mushrooms are on the menu.
Mix shredded chicken with sour cream, mixed vegetables, cream of chicken soup, and shredded Cheddar cheese. Season with salt and pepper to taste.
Spread the mixture in a buttered casserole dish and top with crushed Ritz crackers. Dot the top of the casserole with butter and bake in a 350-degree oven until the mixture is hot and bubbling around the edges. Let cool slightly before serving.

Garlic-Herb Pork Chops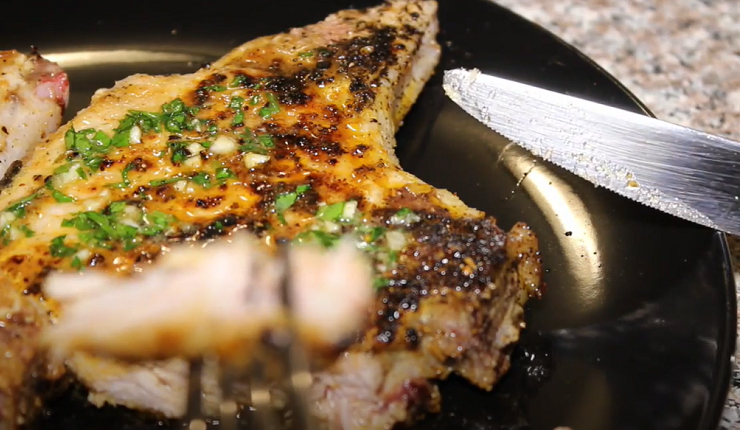 You can use boneless pork chops if you want them to cook through more quickly, but the bone-in variety will offer more pork flavor and a superior juicy texture.
Start by making a seasoning blend of garlic powder, kosher salt, black pepper, and minced herbs. Thyme, rosemary, oregano, sage, and basil are all good bets, but feel free to experiment with whatever you have on hand.
Pat pork chops dry with paper towels, then add a thin layer of mustard or neutral oil to help the herb mixture stay in place. Add the seasoning rub, pressing down lightly so that the herbs adhere to the pork.
Grill over medium heat for 4-5 minutes per side if using boneless chops, or 8-10 minutes per side for bone-in pork. Let rest for 5 minutes before serving alongside stuffed mushrooms.
If you want to use a FoodSaver to preserve your leftovers, click here to find out how to clean the device properly.

Starch-Based Sides
Most of us are addicted to starchy dishes. The following ones will look and taste perfect alongside your stuffed mushrooms.

Roasted Rosemary Potatoes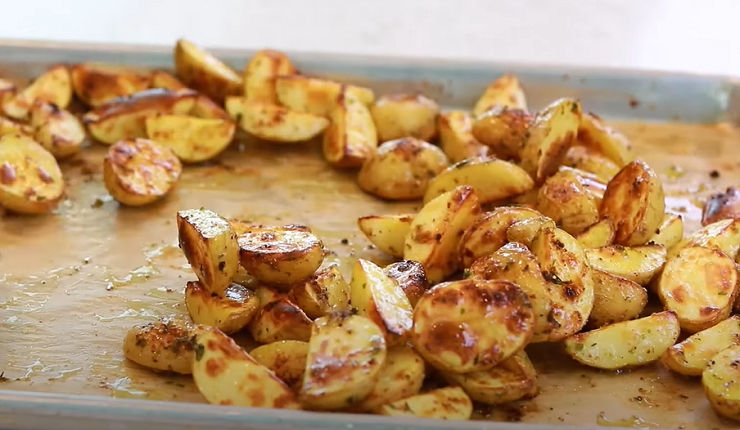 We prefer to use red potatoes for this recipe, as their slightly waxy texture helps them hold their own during roasting. You can also use Yukon gold potatoes, but save the russets for recipes like the Garlic Mashed Potatoes, below.
Scrub the potatoes and cut them into chunks (unless you're using baby potatoes, which can be roasted whole). It's best if the pieces are roughly the same shape and size. Toss the chunks with olive oil, salt, pepper, minced garlic, and minced fresh rosemary.
Roast potatoes in a 425-degree oven until they're crisp and golden brown on the outside and creamy on the inside. Season to taste with additional salt and pepper, if necessary, and serve at once alongside the stuffed mushrooms.

Garlic Mashed Potatoes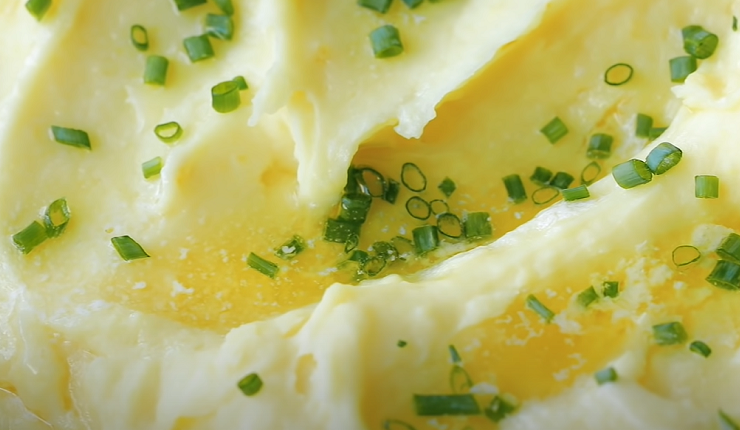 For best results, roast the garlic before adding it to mashed potatoes. This will give it a subtler, almost sweet flavor.
Cut russet potatoes into uniform-sized chunks and add them to a pot or Dutch oven. Cover with enough cool water to cover, plus about one inch. Sprinkle salt into the water, then cover the pot and bring to a boil.
Turn down the heat and simmer until the potatoes are tender enough to be pierced through with a fork, about 15 minutes. Drain and mash the potatoes while they're hot.
Add about 1 tablespoon of butter for each cup of potatoes, the roasted garlic, and salt and pepper to taste. If you melt the butter beforehand, the potatoes will stay warm longer. Mix well and serve as soon as the stuffed mushrooms are ready.

Risotto Milanese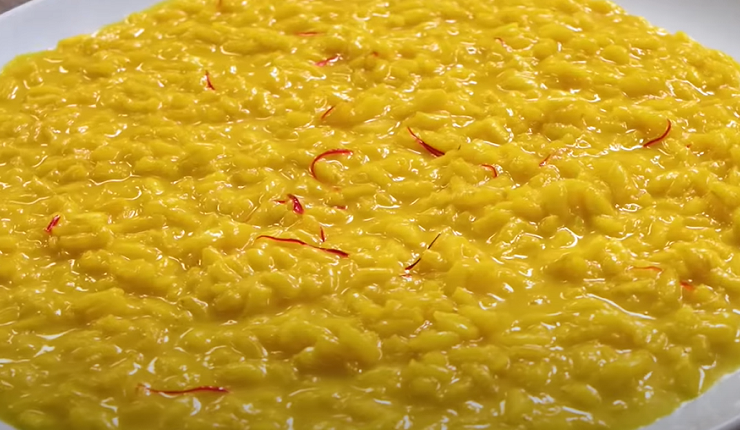 Saffron gives this dish a lovely golden hue, as well as a distinct fragrance and floral taste. It's fine to make risotto without it, but the results won't be the same.
Making risotto is time-consuming, but well worth the effort. The key is to keep stirring the rice as you add the liquid a little bit at a time. The friction will give the dish a lovely creamy texture.
Saute onions in a mixture of olive oil and butter, then add a pinch of saffron threads. Mix in the rice and stir until the grains are coated with oil. Add a splash of white wine.
Add chicken stock about 1 cup at a time, continuing to stir the rice the entire time, until the grains are just tender to the bite and the mixture is creamy. Season with salt and pepper to taste. Serve with stuffed mushrooms that have been filled with sausage or seafood.

Fried Brown Rice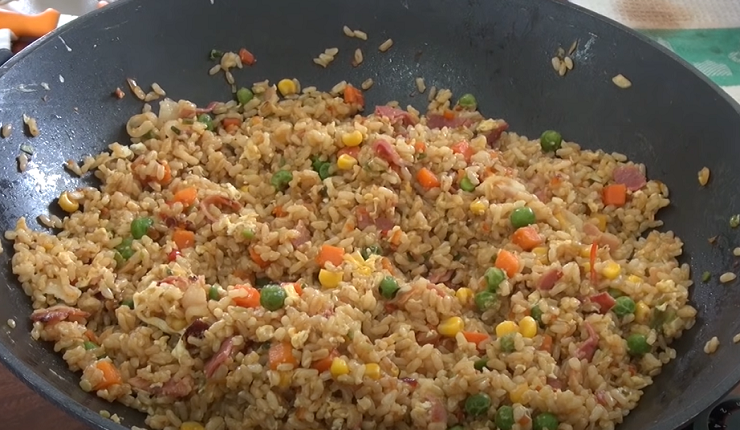 Always use cold rice when you're attempting to fry it. Freshly cooked rice will stick to the wok. Also, have all the ingredients ready before you begin — there won't be time to chop once you've gotten started.
Using a wok, scramble an egg in peanut oil until it's just set, then remove it to a plate and wipe out the wok. Saute carrots and onions in peanut oil until crisp-tender, then add snow peas and cook for another minute or two. Stir in garlic and cook for one minute more.
Add brown rice and cook until the grains are heated through. Mix in soy sauce, oyster sauce, and scrambled egg, then season with salt and pepper. Serve hot, along with your choice of stuffed mushrooms.

Zucchini and Orzo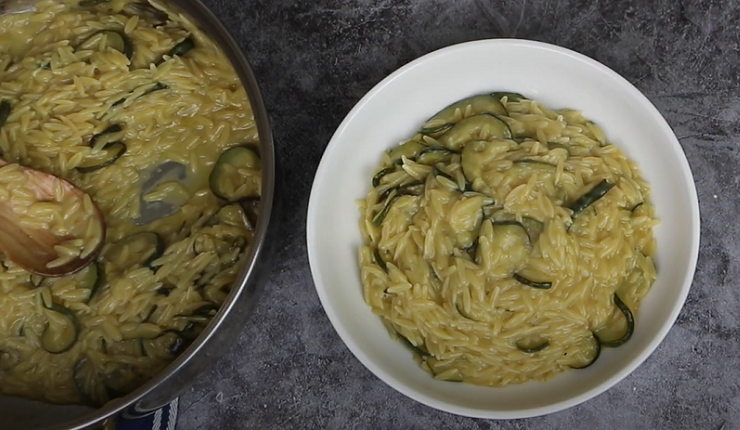 In high summer, when your garden is overflowing with zucchini, serve this dish alongside stuffed mushrooms to make an unusual smorgasbord.
Cook orzo according to package directions and set aside. Saute zucchini with onions and garlic until crisp-tender, then stir the mixture into the prepared orzo. Fold in minced fresh basil and crumbled feta cheese and season with salt, pepper, and crushed red pepper flakes.
This pasta salad can be served warm or at room temperature. It's even decent when it's cold.
Wondering how to reheat your leftover stuffed mushrooms? Explore your options in this article.
Greek Pasta Salad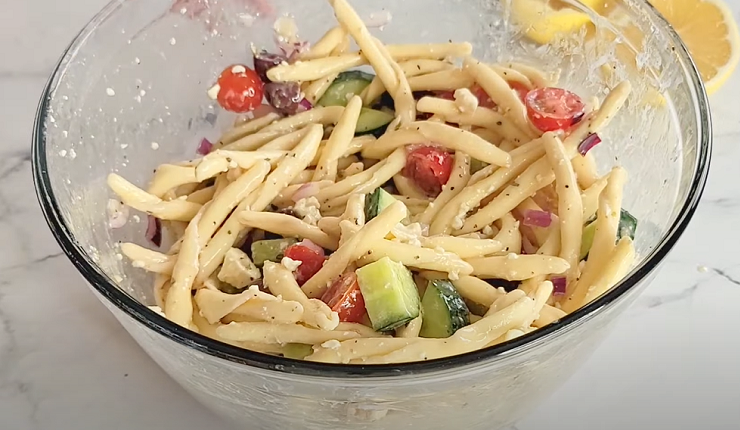 Penne is a good choice for this pasta salad, but you can use any tubular pasta, such as cavatappi or rigatoni.
Cook the pasta in boiling salted water and drain. While it's cooking, gather Kalamata olives, sundried tomatoes, artichoke hearts, capers, spinach, and feta cheese. Cut any vegetables into bite-sized pieces if necessary.
When the pasta is drained, toss it with olive oil, along with the other prepared ingredients. Season with salt, pepper, and minced basil.

Avocado Pasta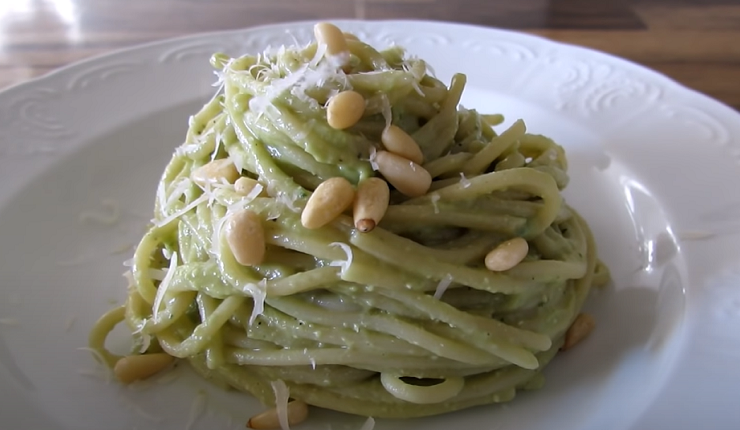 Avocados with pasta? Why not? This preparation allows you to create a delectably creamy sauce without adding any butter or cream at all. And if you're wondering what to serve with stuffed mushrooms, it provides you with a quick and easy answer.
Puree avocados in a food processor, along with lemon juice, basil, and fresh garlic. Add olive oil in a slow, steady stream and continue to mix until the sauce is emulsified.
Prepare spaghetti by cooking it in boiling salted water until just tender. Toss the cooked pasta with the avocado sauce, along with shaved corn kernels and grape tomatoes. Serve with stuffed mushrooms that have an Italian flair.

Don't Forget The Bread
If you want another starchy offering to round out the menu, you can't go wrong with one of these bread-based treats. As a bonus, fresh bread crumbs make a fabulous addition to stuffed mushrooms.

Garlic Knots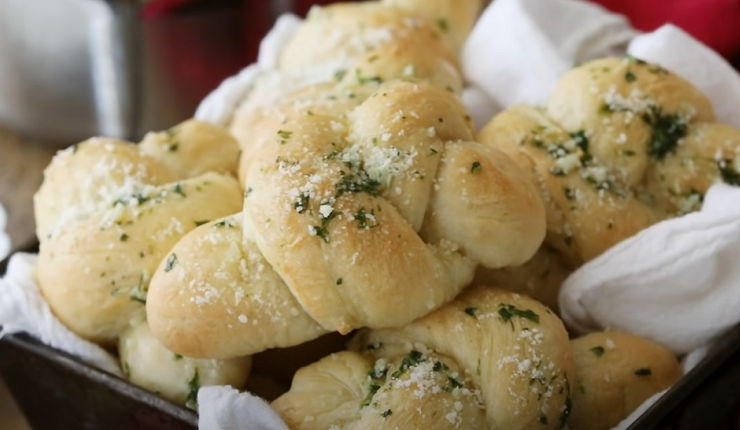 If you start with prepackaged pizza dough, this can be ready in no time. Making your own dough from scratch will take longer, but the process is largely hands-free.
Roll out pizza dough until it forms a rectangle about 16 inches long by 12 inches wide. Brush the dough with olive oil and cut it in half lengthwise, then cut the halves crosswise into 1-inch strips.
Tie each strip into a loose knot, taking care not to tear the dough. Place about 2 inches apart on lightly oiled baking sheets and sprinkle with salt. Set aside to rise for 30 minutes.
Bake the knots in a 375-degree oven for 20 minutes, or until golden brown. Transfer to a mixing bowl and toss with a mixture of melted butter, minced garlic, Parmesan cheese, and freshly minced parsley.

Guacamole Panini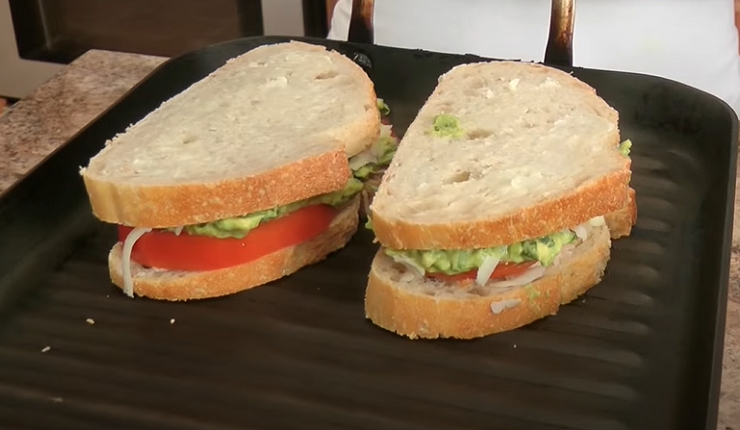 If you don't have a panini press, use a pair of preheated cast iron skillets to grill the sandwiches.
Mix together avocado, cilantro, and scallions in a large bowl. Add lime juice, salt, and pepper to taste.
Preheat a panini press. Butter two slices of bread and spread the avocado mixture on the non-buttered side of one slice. Top with sliced tomato and pepper jack cheese, then add the other slice of bread (buttered side facing out).
Grill the panini until the cheese has melted and the bread is golden brown and crisp. Cut in half before serving.

Cheesy Garlic Bread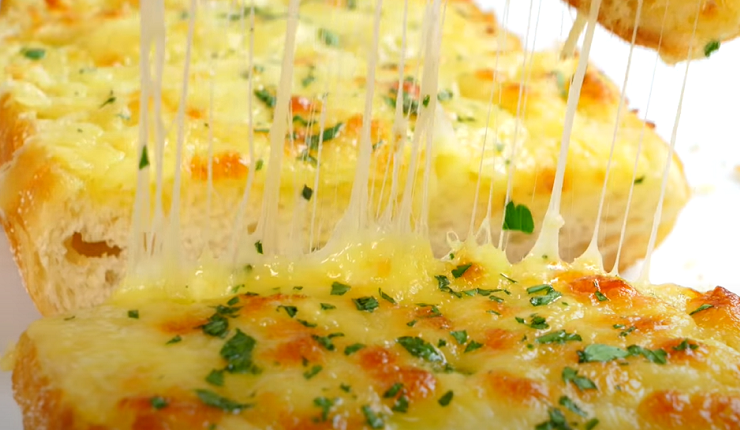 To make homemade cheesy garlic bread, split a fresh Italian loaf lengthwise in half. Top with a mixture of softened butter, minced garlic, Parmesan cheese, minced parsley, minced basil, salt, and pepper. Toast in a 350-degree oven until crisp.
Remove the bread from the oven and switch on the broiler. Top the bread with shredded mozzarella or provolone cheese (or a combination). Sprinkle with a little extra Parmesan, then broil until the cheese is melted and slightly golden. Serve hot.

Roasted Tomato Bruschetta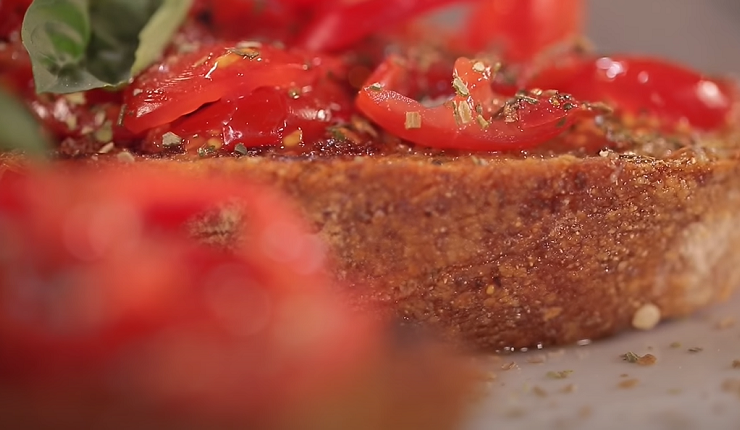 With traditional bruschetta, the tomatoes are raw, but roasting them brings out their flavor. It also gives them a slightly jammy texture that's impossible to resist.
Toast bread well before topping it with a mixture of roasted tomatoes, minced basil, and garlic. If the bread is too soft, it won't hold up to the robust sauce. It's best to serve bruschetta while the bread is still warm.

Egg Salad Sandwich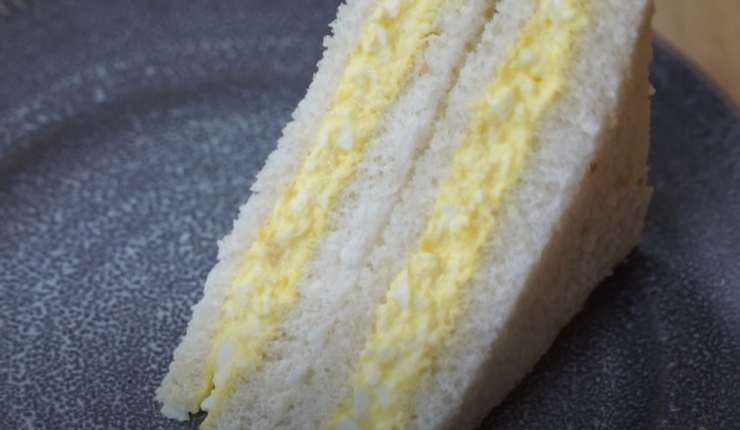 For many people, egg salad is a basic mixture of chopped hard-boiled eggs, mayonnaise, salt, and pepper. But you can get creative by incorporating ingredients that complement your stuffed mushrooms.
Try adding minced chives or other fresh herbs to the egg salad. Dill is an especially welcome addition. Onion flakes and dry mustard will lend savory notes to the creamy concoction. You can also layer the bread with dill pickles or cornichons before adding the egg salad.

Useful Resources
In Conclusion
The next time you're wondering what to serve with stuffed mushrooms, refer to this guide for tips. You're bound to come up with at least one idea — or perhaps several — that will complement your stuffed mushrooms to perfection.
Bon appetit!
Latest posts by Cindy Becker
(see all)